🌱 All copies of Solving Product sold on this website help plant trees. 🌱
Learn from hundreds of product leaders and customer research experts
Solving Product was carefully designed to help product teams and entrepreneurs reveal the gaps in their business models, find new avenues for growth, and systematically overcome their next hurdles.
Rapid Diagnostic
Reveal gaps in your product strategy. Know exactly what challenges you're facing.
Clear Action Plans
Get actionable advice, fix pressing issues, and get your business moving forward, fast.
Growth Ignition
Master customer research. Find new approaches to get your product growing.
25+ Case Studies
Get new inspiration. Learn from some of the leading product organizations in the world.
Praises for Solving Product
"With Solving Product, Étienne Garbugli has written a practical and motivating primer on how to drive growth by leveraging the greatest resource at your disposal: Your customers. Étienne's framework is incredibly valuable both for new founders looking to cultivate traction—as well as mature companies who need to launch new product lines and expand their services."
"Everyone knows that research is a requirement for improving growth processes, but very few people know which particular research practices are right for their current goals. This book collects the world's brightest ideas on this topic, and organizes them in a way that makes it easy for anyone to know exactly which techniques will achieve outsized returns."
"Solving Product is the best roundup of lean thinking for B2B firms. It's most useful for established firms in their growth or renewal phases but it offers a lot of value for startups as well. Garbugli has a good eye for quotes from variety of entrepreneurs and lean practitioners that crystallize a particular insight or lesson learned. He offers a mix of practical techniques for customer research complemented by a wealth of case studies."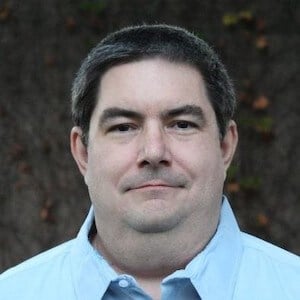 "No matter where you are in the product growth cycle—in the early stages of sparking and shaping a new idea, fanning the flames of growth, or seeking strategies to stem complacency and loss of market share—Solving Product will meet you where you are and lead you out of the darkness. Each section and chapter is packed with immediately actionable tips and tactics. I highly recommend keeping it within reach at all times."
"Solving Product lays out the territory, helps you see where you are, and gets you back on track when you're in the ditch."
Product Manager, Salesfloor
Get Your Copy
Solving Product is a book you'll find yourself going back to, time and time again.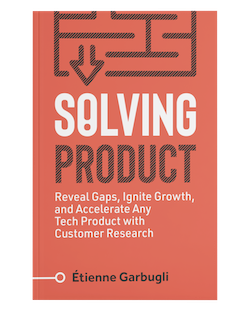 Get the First 3 Chapters Free
Learn why growth stalls, the impact gaps have on your business, and how to identify the biggest hurdles for your product. Sign up to receive the first 3 chapters of the book.