Discounts (or added services) are a marketing investment to help land early customers. Your initial offer should take into consideration the value businesses provide and the reduction in marketing costs that your first few case studies will bring.
Perhaps discounts can help sweeten the deal, but discounted rate products are very hard to increase afterwards.
If it's $500 today, prospects will expect to pay $500 in the future.
I'm more prone to give services away than recurring revenue discounts. The way I look at it is, if I give services away, it's like I'm paying tuition (for learning). – Steve Smith, Cakemail Entrepreneur
A better approach to discounting the price for sales is usually to offer more services. To throw a carrot to your early customers, you can:
Provide extra service or free support;
Give early access to new functionalities;
Give a full feature account without increasing the cost;
Implement custom features;
Guarantee benefits by giving customers a 30- or 60-day risk-free
trial;
Introduce a money-back guarantee ("If you don't find it useful, I
don't want you to use it");
Urge your customers to call you at home (if needed).
It's not necessary to offer prospects any form of discount with a pilot project. In fact, doing so can actually blur your product validation.
Prospects shouldn't be interested simply because they get an heavily discounted solution, but it's good to have an option ready in your back pocket.
Don't offer discounts or throw-ins up-front. Start with price agreement before considering discounting your price or service.
Discounts are recognition, not bribes. If you offer discounts, make sure it's in exchange of endorsements like case studies or testimonies.
More on Early Customers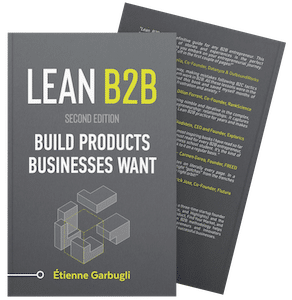 Download the First 4 Chapters Free
Learn the major differences between B2B and B2C customer development, how to think about business ideas, and how to assess a venture's risk in this 70-page sampler.
Working on a B2B Startup?
Learn B2B customer development with our free email course: