If the problem is real, people are dealing with it somehow. Maybe they're doing something manually, because they don't have a better way. The current solution, whatever it is, will be your biggest competitor at first, because it's the path of least resistance for people. – Ben Yoskovitz and Alistair Croll, Lean Analytics Authors
People have a tendency to want to talk about their problems. You might not even have to ask any questions to find painful company problems they're actively trying to solve. If the problem is on their minds, they will share it candidly.
How to Tell if a Company Problem is Painful
We can tell that a problem is painful if:
The same person repeats it frequently with passion during the interview. Repetition is a sign that the problem is current and top- of-mind.
The company is actively trying to solve the problem or has assigned a budget to solve the problem. In that case, the company thinks it's critical and they have a vision for the solution.
The problem is frequently listed in the top five of your early adopters. If it's not part of the top five, it may be too far ahead of the market.
Get the Problem Evaluation Grid to Find Painful Business Problems (Free)
The bigger the problem for a company, the more likely they will want to invest in it themselves.
Perhaps the business has assigned budgets or resources to solve that company problem or perhaps they have put a few Excel spreadsheets together for a quick fix. If you can't beat the Excel solution, your solution will always be a "nice-to-have."
Problems that are not mission-critical lead to nice-to-have solutions and are harder to buy into. To successfully sell nice-to-have solutions to an organization, you need to target organizations that are extremely profitable, have a tendency to try new products or you need to just get bloody lucky.
Avoid nice-to-haves by finding the real pain of a buyer.
Get the Problem Evaluation Grid to Find Painful Company Problems (Free)
More on Painful Company Problems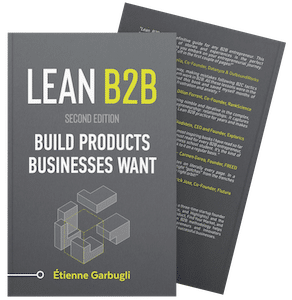 Download the First 4 Chapters Free
Learn the major differences between B2B and B2C customer development, how to think about business ideas, and how to assess a venture's risk in this 70-page sampler.
Working on a B2B Startup?
Learn B2B customer development with our free email course: