If you can't find early adopters, you can't build a business. – Trevor Owens, Lean Startup Machine CEO
In previous posts, we talked about what early adopters look like and covered a few tactics to find them:
Now, let's talk about how we can use expressed needs–needs or problems that early adopters are aware of, and are actively seeking a solution to–to find early adopters.
As Lean Entrepreneur author Brant Cooper explains, it's important to understand that being an early adopter is not a personality type.
Early adopters are problem and opportunity specific. They're the people who are looking for an edge in their work. There are no events or bars where they meet to talk about adopting new technologies.
Let's dig in.
Finding Early Adopters' Watering Holes
A watering hole is where your prospects or early adopters gather for pleasure or for work. It can be a conference, a tradeshow, a seminar, a restaurant, a bar, an hotel or a professional association networking event.
It can be offline or online.
Find Advocates for your Business – Get the Early Adopter Evaluation Grid (Free)
To find early adopters using expressed needs, you have to go where they look to find solutions. In other words, where do they go to learn, complain, exchange ideas, leave/read reviews, ask questions, etc?
How to Find Early Adopters Online
The watering holes will be completely different from one problem set to another. You need to find the right channels and right platforms where prospects are looking for solutions to their problems.
You can start by going through:
Forums & Communities: One of my close friends works in the airline industry. Everyday, he logs into Airliners.net. Chances are, you've never heard of this forum, but if you work in aviation, that's where you ask for help. In communities, you'll be able to see the questions that are being asked, and find prospective early adopters. Alternatively, tools like AnswerThePublic, SparkToro, and GummySearch can help you identify discussions across many online communities using search keywords.
Quora: Quora is part forum, part social network. It's true gold for user research. On Quora, prospects can ask questions, and seek advice. You can easily find users following certain topics or questions, and you can send them messages.
Groups: LinkedIn and Facebook groups are great ways to find expressed needs. VarageSale founder Carl Mercier discovered local groups of people buying and selling items on Facebook. He created a better product for them and actually managed to convert them to his platform.
Blog posts: If you can find blog posts on the topic you're investigating, you can find early adopters. Maybe the author experiences the pain? Maybe the people sharing the posts? Maybe the people writing comments? How-to posts are clear expressions of needs. Comment threads are usually a good starting point to start digging.
YouTube: YouTube is the home of How-to videos. The same model applies on there. Except, you'll probably find even more people on there.
Product reviews: Platforms like G2, Capterra, Trustpilot, or GetApp can also be useful to find expressed needs. Looking at reviews and comments can help reveal early adopters seeking different value or solutions.
Personal ads: Craigslist or even personal ads in newspapers are great places to find expressed needs. Airbnb notoriously used Craiglist to find early adopters. Many others followed in their footsteps. Enough that, investors have called the movement the unbundling of Craigslist.
Reddit: Reddit also had its own unbundling. Many users visit Reddit seeking advice or looking for solutions. You can find early adopters on Reddit (ProductHunt, HackerNews, etc) just by reading through the comments.
Twitter: People share things on Twitter that they would not share on LinkedIn or Facebook. Maybe communications feel more spontaneous there? No matter the reason, pains and problems are more likely to be shared on Twitter. Setting up a few "Saved Searches" is a good way to passively find early adopters.
Amazon: Although this may be more for B2C, but Amazon and specialty e-commerce sites can also be great platforms to find expressed pains. Through comments, reviews and reading lists, you can find early adopters. I've never used it myself, but Alibaba may also be a good platform for B2B entrepreneurs.
Related needs or problems: If you have a good understanding of the problem space, you can find early adopters through related products or services. For example, if you were exploring problems around translation, companies like Adyen that help businesses internationalize their payment gateways might be able to point you to good candidates. Sifting through case studies and testimonies can often point to good prospects to speak to. Are there products that could be complementary to the product that you're exploring? The best part of this is that… case studies often tell you exactly who you should be speaking with. 😉
Open Customer Service: Feature request boards are also great places to find unmet needs and home in on early adopters that are looking for solutions. This is actually what analytics startup Amplitude did to outdo the competition.
Events and conferences: Conferences and meetups bring groups of people with shared needs or problems together. Attendee or speaker lists can help you find more early adopters.
Job postings: Problems are often addressed by people manually before solutions get hired. Job requirements in job postings can sometimes reveal challenges and opportunities that companies are looking to address. You can sometimes find early adopters through job boards.
Service providers: Agencies, consultants, and professional service firms often have wide professional networks spanning many markets or industries. They may be able to recommend, or point to certain stakeholders matching your criteria.
Find Advocates for your Business – Get the Early Adopter Evaluation Grid (Free)
How to Find Early Adopters – An Example
Let's suppose you were exploring a solution around A/B testing. You'd try to find where Data and Marketing people hang out. A community like GrowthHackers–focused on agile marketing–could possibly give you access to hundreds of potential early adopters.
Looking at questions being asked on the site, a thread like the following could be a good indicator of someone with an expressed need:
From there, you could see that the question got traction; it is not a random edge case. Other users may be interested in solving the same pain point:
Looking at the comments, you can find other users interested in the solution:
And you can find influencers on the topic:
We can add all these people to our list and keep searching for more early adopters.
A Few Things to Keep In Mind When Looking For Early Adopters
As with customer interviews, you want to follow emotions. References to "Love", "Hate" or other strong words are important indicators of pain. Consider prioritizing those.
When scouring blogs, forums and communities, it's important to differentiate the roles of participants. People asking questions and following answers are potential early adopters whereas people answering the questions are more likely to be influencers or (already) satisfied customers.
It may not be easy in B2B, but threads with more comments are often better. They're good indicators that the problem resonates with many people.
It's also important to look at publication dates. You're looking for people actively seeking new solutions. Not people who have moved on or have already found their solution.
Find Advocates for your Business – Get the Early Adopter Evaluation Grid (Free)
This guide should be a good start to help you put together a first list of early adopters. From there, we'll look at finding the influencers, and starting to reach out to conduct problem interviews.
More on Finding Early Adopters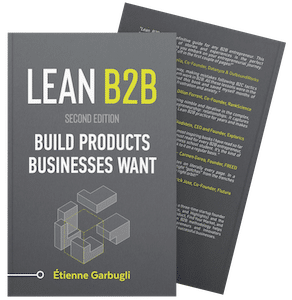 Download the First 4 Chapters Free
Learn the major differences between B2B and B2C customer development, how to think about business ideas, and how to assess a venture's risk in this 70-page sampler.
Working on a B2B Startup?
Learn B2B customer development with our free email course: