The life of any startup can be divided into two parts – before product/market fit and after product/market fit. – Marc Andreessen, Product Market Fit Promoter and Serial Entrepreneur
You were able to make some sales, get a few case studies and learn about the value of your solution — does that mean you have product-market fit? Does that mean that if you do more of the same your business will grow?
Unfortunately, your first few sales don't automatically mean that you have product-market fit. Product-market fit has more to do with the way in which you convinced your first few validating customers to sign on rather than with the outcome — the sale.
In the same way that selling dozens of products that never get used is not product-market fit, selling a product that doesn't move the needle is not real success.
Now, is your business model scalable? Is it repeatable?
If you're selling to customers in different market segments, the sales and marketing processes will not be repeatable. You will need different sales tactics, different techniques to counter objections, different product features, and different assumptions about who the partners and system integrators are in the industry.
Ask yourself:
Was I able to consistently add value for customers in a single market segment?
Did they pay after the pilot project was over or did they churn and move on?
How engaged and satisfied were the clients with the product?
Did they refer our solution to other prospects?
If you found product-market fit, congratulations, you're no longer searching for a business model. You were able to create a business.
Take a day off to celebrate, but don't celebrate too long. There's still a lot of work to do. You're only at the Chasm.
More on How to Get Product Market Fit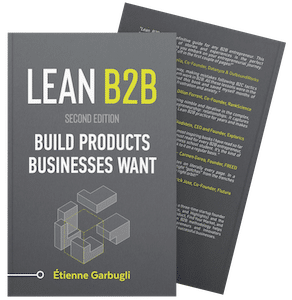 Download the First 4 Chapters Free
Learn the major differences between B2B and B2C customer development, how to think about business ideas, and how to assess a venture's risk in this 70-page sampler.
Working on a B2B Startup?
Learn B2B customer development with our free email course: