This is a post about a missing part in Lean B2B: Build Products Businesses Want. I stumbled on this concept a little after book publication and would have loved to include it to explain product-market fit.
---
I've never seen a (B2B) company get to anything much under 18 months. – Steve Wood, B2B Serial Entrepreneur
Imagine you start a B2B business tomorrow, get to product-market fit within the first 3 months, and like an Instagram, a WhatsApp or a Pinterest, business growth explodes in just 12 months. Amazing, no?
But what if it doesn't?
In paid SaaS apps / B2B businesses, it takes time to interview customers, build a MVP, validate a need and get to product-market fit. And usually, it's a lot more time than the founders ever imagined…
Finding P-M fit is harder than I thought. – Ben Yoskovitz, Lean Analytics Co-Author
Time to Product-Market Fit (TTPMF)
Until you reach product-market fit, your startup is in limbo. It's hard to raise capital, everyone commits to a leap of faith. That's why TTPMF, or the Time it takes to reach Product-Market Fit, is such a key concept.
Introduced in 2013 by entrepreneur Andrew Chen, TTPMF is what decides if your business succeeds or fails.
In his words, if your plan for TTPMF exceeds your funding runway, you're dead. If your TTPMF is more than 1-2 years, your startup will implode: fatigue sets in, the window of opportunity shifts, investors get disengaged, team and employees start getting excited about other companies… you run out of money and energy. Not good.
Getting to product-market fit takes longer than expected, but must be less than 2 years. That's why it's important to be lean and aware of every option you have to speed up product-market validation. Even in the early days when it feels like you have months and months of runway ahead of you.
8 Ways to Shorten Time to Product-Market Fit
Here are some of the tactics covered on this blog to speed up product-market validation:
Leveraging social proof from industry experts
Hiring key staff and advisors
In Minimize your Time to Product-Market Fit, Andrew Chen suggests copying the fundamentals of an existing business at product-market fit and changing 20%. It's another strategy worth considering to decrease your TTPMF.
The ideal time to enter a market is at the Chasm, when the market need has been validated and the opportunity has been partially de-risked.
Having been at the receiving end of business copy when I was working at LANDR Audio, I can tell you that it sucks losing leads to imitators, but it's part of the game.
When survival is on the line, you've got to do what you've got to do.
Whether you decide to copy a business at product-market fit or build your own, you'll want to shorten your TTPMF. Figuring out how to take a product to market is key.
Pivots happen. Worst-case scenarios come to reality, so you'll need to plan for the worst and give yourself reasonable time to pull through. It will be difficult, but stick it out. As SaaStr founder and B2B entrepreneur Jason Lemkin says, you'll fail in SaaS if you don't commit to spending 24 months to achieve initial traction.
More on Time to Market Startup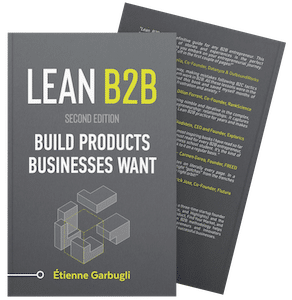 Download the First 4 Chapters Free
Learn the major differences between B2B and B2C customer development, how to think about business ideas, and how to assess a venture's risk in this 70-page sampler.
Working on a B2B Startup?
Join our free email course to learn all you need to know: