Although The Lean Startup methodology works really well, the book's near-exclusive focus on consumer startups like IMVU, Zappos, Dropbox, and Grockit has led many big-ticket B2B entrepreneurs to misinterpret its lessons.
The Challenges of Applying The Lean Startup in B2B
While the core principles of The Lean Startup apply just as well to B2B (the goal is to reduce waste), the techniques used are very different. In B2B, you're building fewer relationships, and thus can't change the product overnight.
In B2B, you seek more proximity with customers. The more proximity you have, the more likely you are to succeed (Read: Moving in With Customers).
Although analytics will be part of your validation process later, they play a lesser role in the early days of a B2B startup. B2B validation is more relational.
Clients should be perceived as coworkers and not just customers. They should have the same goals as your business. – Don Charlton, The Resumator Founder and CEO
Sales cycles are long, products are complicated, and many stakeholders need to get involved for a sale to happen. Business customers have their own resources, agenda, culture and approval processes. It's crucial to learn how to build relationships.
The Lean Startup, at its core, is about innovation, not relationships. It does not capture the intricacies of creating mutually-beneficial partnerships with business stakeholders.
There is a limited number of prospects for your business and an even smaller number of early adopters. If you don't establish real mutually-beneficial relationships with prospects, you run the risk of losing customers and reputation.
A half-baked B2B product shown to a few "early adopter realtors" runs the risk of 1.) Losing that potential customer forever as it would be much more difficult to get in the door again, or 2.) Irreversible reputational loss in Boston (example) if the customer landscape is a tight and chatty one. – Oliver Jay, Launching Tech Ventures
Applying The Lean Startup in B2B
With my previous startup, HireVoice, we burned a lot of contacts and early adopters by changing products too often.
Eric Ries's The Lean Startup is a philosophy and a mindset. It transformed the way marketers and developers bring new technology to market, but it does not tell you how to adapt the principles to complex B2B sales. There's a gap to be filled.
Applying the Lean Startup techniques in B2B without understanding what makes B2B different and unique can really hurt your startup. Make sure you focus on the principles and not the techniques. Chances are, B2C techniques won't work for your B2B startup.
More on The Lean Startup Techniques in B2B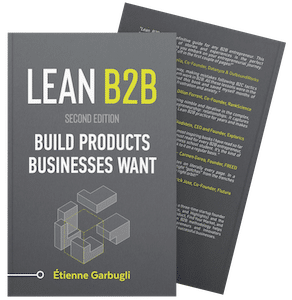 Download the First 4 Chapters Free
Learn the major differences between B2B and B2C customer development, how to think about business ideas, and how to assess a venture's risk in this 70-page sampler.
Working on a B2B Startup?
Join our free email course to learn all you need to know: