Your prospect said no? It doesn't have to be final.
Getting your offer rejected is part of the learning process. The key thing with rejection is to understand why customers don't buy, and find a way to counter the objection.
13 Reasons Why Customers Don't Buy
Was the price too high? The perception of value is either too low to warrant the change or the risk is too high. Reduce risk and increase value.
Were the budgets already assigned? Maybe you can get creative with the budget. Could it come out of another budget or do you need to revisit the prospect later in the fiscal year?
Is there a freeze on expenditures? Keep nurturing the relationship; they can become a client later on.
Was it not a business priority? A problem that keeps them up at night, but is not a business priority, is a red flag. Can you speak with another stakeholder about the opportunity? Was it really an opportunity in the first place?
There's too much risk? What elements are perceived as risky? Look for ways to diminish the perception of risk and improve your implementation score.
Will someone object? Which stakeholders do you need to meet? Meet them individually. Adapt your pitch to provide strong win results for everyone.
Is the product not enough? What features are missing? Can you sign a conditional agreement stating that these features will be part of the product?
Was the value not clear enough? Was it the pitch or the product? Take a step back. Create a new iteration based on what you learned.
Did the proposition not sell enough ROI? What were the expectations? What would be wonderful? Look for ways to improve your pitch and increase the impact of the solution.
Are they not convinced by your startup? Reduce the engagement to demonstrate that your team can ship. Reinforce credibility with stakeholders. To overcome hesitations, say that you will rip up their check if it doesn't work.
Was it not the right time? Why is it not the right time? Lack of resources? Look for ways to reduce the amount of work and training on the prospect's side. Avoid going too far because it may lead to a pilot that never gets used.
Are there other solutions in the pipeline? External or internal solutions being considered? If so, the problem is real and the budget is available. Make a better offer. Convince them that, for them, buying is better than building.
Are they committed with the competition? It is possible to replace an established solution. Are they satisfied with the competitor's solution? When do they expect to buy a new solution? Can you start a free parallel project to evaluate whether the results can be better with your solution?
How to Handle Rejection
Remember to not to see a rejection as finality. You're in it for the long term and many things can change. The proper reaction to rejection is to ask yourself how you could provide more value through your solution or more services around the solution.
Most objections can be overcome. The more you know about the situation and the better you understand it, the higher the likelihood that you will be able to win over a prospect after an initial rejection. Keep trying.
More on Closing Sales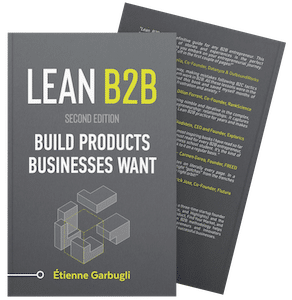 Download the First 4 Chapters Free
Learn the major differences between B2B and B2C customer development, how to think about business ideas, and how to assess a venture's risk in this 70-page sampler.
Working on a B2B Startup?
Learn B2B customer development with our free email course: