Note: Control Alt Deceit is now available for purchase.

---
Earlier this week, I launched the Control Alt Deceit game on Indiegogo Update: the game is now available for purchase.
It all started with this game on Tesla and Edison. It got me thinking about luck in entrepreneurship, how the best companies don't always win the market and how cruel competition can be.
Working in a tech startup, I kept thinking that everything we do (raise money, expand markets, build new products, outdo competitors, etc) feels like game dynamics.
The ups and downs of startups would make for a great game.
Come January, I had the urge to build something new.
Creating a game was not the least risky project (think Lean Startup!) I could have taken on, but it was the funnest.
Introducing Control Alt Deceit
The game really took shape in March when I started working with a game designer friend based in Hong Kong. In just a few weeks, we were able to get a prototype ready for testing.
The art wasn't there. The game had no rhythm. But we had something to work with.
10 play tests and 6 versions later, the game started to take shape. Enough to get designers involved. Suddenly, simple black and white cards…
Turned into something else…
I had become fascinated with the tech wars of the '80s (Beta vs VHS, Apple vs Microsoft, Sega vs Nintendo), the early days of Silicon Valley and the sometimes questionable strategies employed by early tech businesses to carve our market space.
Everything was possible in the '80s. It was also an era of strong aesthetics.
Setting the game story in the '80s created a strong visual signature.
All that was missing was an equally strong name to communicate the tech/business theme of the game. After 2 weeks of brainstorms and mounting pressure from designers wanting to finalize the design, we selected Control Alt Deceit, a name that probably has two, three or four meanings.
Build Better Businesses with Control Alt Deceit
The Indiegogo campaign and video came together in the last few weeks. It was a lot of work, but the results are quite impressive:
The game is currently funding on Indiegogo (Update: Control Alt Deceit is now available for purchase).
Thanks for helping make Control Alt Deceit a reality.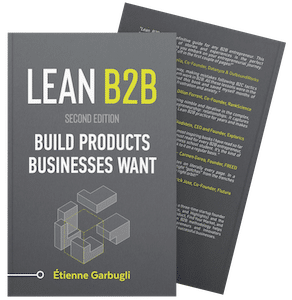 Download the First 4 Chapters Free
Learn the major differences between B2B and B2C customer development, how to think about business ideas, and how to assess a venture's risk in this 70-page sampler.
Working on a B2B Startup?
Learn B2B customer development with our free email course: