Let's suppose that we could build this and it was that cheap… you could put it on your credit card. Would you buy it? – Jason Cohen, WP Engine Founder
The goal with closing during solution interviews in customer development is to find out if your prospects are willing to pay and also how much they would be willing to pay. Is it a $50 or a $50,000 per month solution?
Unfortunately, it's not just a matter of asking how much the prospects would want to pay for the solution (prospects won't know and will always say the minimum).
You will get a better idea by asking them, as market experts, how much another company would be willing to pay for the solution or by submitting a range of prices and seeing how they react.
To close, you have to convince the prospect that their pain is urgent and requires action, give a price and wait for a yes/no answer. Stick to your pricing hypothesis and bluntly ask, "Will you buy?" then listen.
As you remain silent, notice the body language and reactions of your prospects. Do they have objections? Do they hesitate? Their questions and hesitations are highly valuable; they are the truest form of Product-Market validation.
Did they buy?
Serial entrepreneur and author Steve Blank's technique to determine price sensitivity (how much a prospect would be willing to pay) is to push for an extreme.
Blank: "If it were free, how many would you get?"
Prospect: "I don't know."
Blank: "It's one million dollars."
Prospect: "You're insane… I would never pay more than $1000 for this."
It takes a lot of nerve to pull off this technique, but it's a good way to figure out the maximum amount a prospect would be willing to pay for your product.
More on B2B Customer Development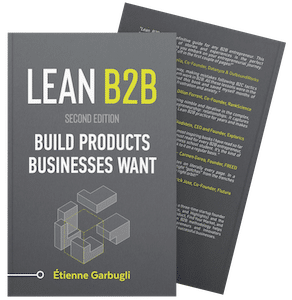 Download the First 4 Chapters Free
Learn the major differences between B2B and B2C customer development, how to think about business ideas, and how to assess a venture's risk in this 70-page sampler.
Working on a B2B Startup?
Learn B2B customer development with our free email course: