There are many ways to build credibility for your startup, but the fastest and most effective way is to leverage your team's network or to recruit advisors who have already earned the respect of your prospects.
With the right expert on board, it is possible to sell a product on credibility or social proof alone.
When we decided to target the employer brand market for my last startup, HireVoice, we spent a lot of time looking for great advisors.
We were looking for employer brand thought-leaders who had established credibility, influence and a wide professional network. We were lucky to be introduced to Mario Bottone.
Mario was a marketing veteran who had played a significant role in the development and growth of online job boards Workopolis and Monster. He had a large focused international network, was active in the industry and had been teaching marketing for McGill's prestigious MBA program for over eight years.
In just a few weeks, he was able to help us understand the market opportunities, identify the players and open many doors that would have remained closed if not for him. Having his name on our presentations gave our company credibility, which we were able to leverage successfully.
Finding the right advisor can really help warm up the market to your offering. With the right professional network, it can also significantly speed up market adoption.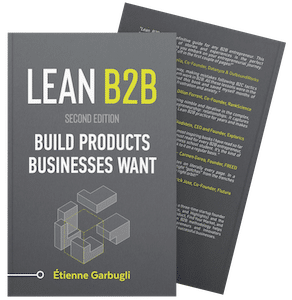 Download the First 4 Chapters Free
Learn the major differences between B2B and B2C customer development, how to think about business ideas, and how to assess a venture's risk in this 70-page sampler.
Working on a B2B Startup?
Join our free email course to learn all you need to know: