Last week, I was fortunate to be invited to present at the Lean Startup Meetup in Berlin and Leancamp Stuttgart – "Corporate Entrepreneurs meet Startups".
I met a lot of passionate entrepreneurs with very inspiring B2B (and B2C) projects and gave a talk on How to Turn a Full-time Job Into a B2B Business Opportunity. You can view the slides from my talk below:
Here's the talk I gave in Berlin this past October:
UPDATE: To help entrepreneurs apply these ideas, I've shared my framework on how to find B2B business opportunity in your workplace. Check it out!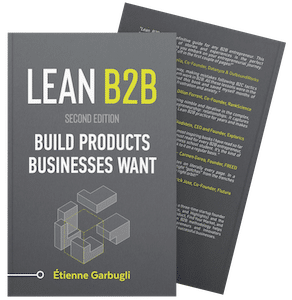 Download the First 4 Chapters Free
Learn the major differences between B2B and B2C customer development, how to think about business ideas, and how to assess a venture's risk in this 70-page sampler.
Looking for a Business Idea?
Join our free email course on finding B2B business ideas: