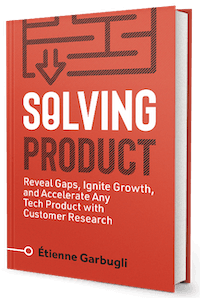 If you've read Lean B2B, you could reasonably be wondering: "What happens once I reach product-market fit?" Is everything fine and dandy after?
This, is one of the questions I aimed to answer when I began work on the book that would eventually become Solving Product.
To find the answers, I…
Spoke to some of the most successful technology entrepreneurs today including B2B veterans like Hiten Shah, Dan Martell, and David Cancel.
Spoke to growth and product leaders at organizations like Google, LinkedIn, and HubSpot.
Spent time testing and researching hundreds of customer research techniques and product and growth frameworks.
The more research I did and the more I learned, the more questions I was able to answer. Now, no matter where you are in the product growth cycle—at the idea stage, at maturity, or somewhere in between—you can use Solving Product to gain clarity and move a product business forward.
"A GPS for Entrepreneurs and Product Teams"
Solving Product isn't your typical business book. It's not a book that was written to be read front to back, then simply put away.
It was carefully designed to help entrepreneurs and product teams reveal the gaps in their business models, find new avenues for growth, and systematically overcome their next hurdles by leveraging the greatest resource at their disposal: customers.
Solving Product will help you:
Gain clarity by revealing gaps and blindsides in your product strategy;
Overcome blockers by laying out clear action plans to get your business moving;
Ignite growth by helping you find new approaches to get your product growing.
The book contains more than 25 case studies and actionable advice from hundreds of product leaders and customer research experts.
It's a book you'll find yourself going back to, time and time again.
What Early Readers Are Saying:
Here's what product leaders and entrepreneurs are saying about Solving Product:
| | |
| --- | --- |
| | "Everyone knows that research is a requirement for improving growth processes, but very few people know which particular research practices are right for their current goals. This book collects the world's brightest ideas on this topic, and organizes them in a way that makes it easy for anyone—regardless of company size—to know exactly which techniques will achieve outsized returns." – Samuel Hulick, Founder, UserOnboard |
| | "With Solving Product, Étienne Garbugli has written a practical and motivating primer on how to drive growth by leveraging the greatest resource at your disposal: Your customers. Étienne's framework is incredibly valuable both for new founders looking to cultivate traction—as well as mature companies who need to launch new product lines and expand their services." – Sam Shepler, Founder & CEO, Testimonial Hero |
| | "Solving Product demonstrates how user-centered design and research are intrinsically connected to the acceleration of your business. The book provides a practical guide to leveraging customer-focused strategies, frameworks and tactics that will help you fuel your growth and move to the next stage." – Nicolas Cossette, Head of Growth & Operations, Matador.ai |
| | "No matter where you are in the product growth cycle—in the early stages of sparking and shaping a new idea, fanning the flames of growth, or seeking strategies to stem complacency and loss of market share—Solving Product will meet you where you are and lead you out of the darkness. Each section and chapter is packed with immediately actionable tips and tactics. I highly recommend keeping it within reach at all times." – Amanda Robinson, Product Manager, Salesfloor |
Solving Product is now available for purchase:
📘 Get Your Copy of Solving Product Today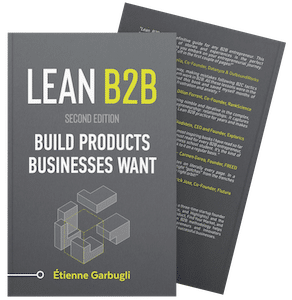 Download the First 4 Chapters Free
Learn the major differences between B2B and B2C customer development, how to think about business ideas, and how to assess a venture's risk in this 70-page sampler.
Working on a B2B Startup?
Learn B2B customer development with our free email course: