This past month, I took some time to research the evolution of 12 Billion-Dollar B2B startups looking at everything from their early designs, first websites, and their current product offerings.
It was a very time-consuming process looking at Wayback Machine updates, blog posts and archived press releases, but it proved to be very informative.
Here are the top things I learned digging up the early designs of Salesforce, Marketo, Hubspot, Slack, Workday, Zendesk, etc:
Many of the startups that became billion-dollar companies created platforms for traditional business departments (e.g. Salesforce = Sales, Service Now = IT, Zendesk = Support, Workday = HR). More recent success stories like Zenefits or Stripe created products for specialized user groups or overlooked business processes.
Although design did not seem to prevent businesses from adopting new products all the way up to 2010, the successes of Yammer, Box and the whole consumerization of B2B has brought user experience and design at the forefront of product requirements. The first designs of Slack, Stripe and Zenefits were already very polished.
All the companies I looked at (from Salesforce to Slack) are cloud-based. Although « Cloud » was a strong competitive advantage for many of these startups when they started, it became the expected way to deliver software.
Outside of a few startups that started with Business to Consumer (B2C) business models (like Box), all startup websites followed the same evolution: 1) Early adopter website — basic idea and target, 2) Value proposition website, 3) Basic product screenshots and demo website, 4) Customer testimony website, 5) Target vertical website and then… scale up… usually followed by a large investment round.
Several of the top B2B startups (Workday, Service Now and Marketo) started with a customer development panel — a small group of mobilized early adopters helping with product-market validation. This technique worked in 2003, it still works today.
View the early designs of 12 of today's most successful B2B startups below:
You can see it here on SlideShare.
More on Early Designs of B2B Startups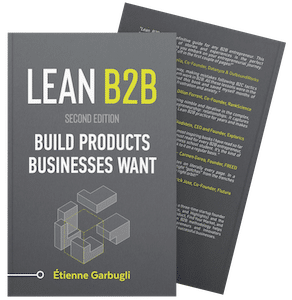 Download the First 4 Chapters Free
Learn the major differences between B2B and B2C customer development, how to think about business ideas, and how to assess a venture's risk in this 70-page sampler.
Working on a B2B Startup?
Join our free email course to learn all you need to know: