If you made your app easier to use I would start using it.
I'm really busy right now but I'll start using your app soon.
If your app was cheaper I would start using it.
– David Cancel, Drift Co-Founder and CEO
The Problem
You were able to sell to two, three, five or ten pilot customers, but after a few weeks, they've hardly used the technology.
Maybe you were able to sign conditional purchase agreements with your prospects, but if they're not using the technology, you know where that's headed…
If you call, they tell you that they're really busy, but that they'll start using the product really soon or that such and such features are missing for them to start using it. Those are all excuses.
Building more and more features around the core is not lean.
Increasing Product Value for Pilot Customers
The solution to this problem is always to increase the value. Focus on the response from your total group of pilot customers (not just one prospect).
Get back to Dave McClure's Metrics for Pirates and ask yourself whether customer acquisition is not the problem. Have you been selling to the wrong people? Chances are, if they haven't even got to it after a month they don't have enough pain or don't see enough value.
Maybe then the Activation process is not working. Perhaps IT can't get to implement the solution before another month. Look for ways to handle the setup. Remove any friction with the activation process.
Focus on core tasks through analytics. Dig deeper with usability testing sessions or call users and ask why they haven't used the reporting functions, the search or any of the core features of your solution. Iterate your way to adding more value, not more features.
LinkedIn co-founder Konstantin Guericke notoriously called all early LinkedIn users to understand why they did or didn't do certain actions with the first few versions of the website. The development team was able to learn and adapt the experience accordingly. You can certainly do the same.
More on Pilot Customers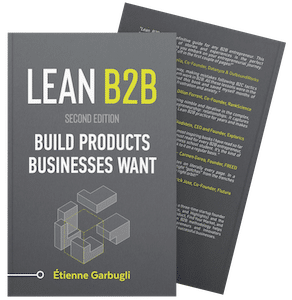 Download the First 4 Chapters Free
Learn the major differences between B2B and B2C customer development, how to think about business ideas, and how to assess a venture's risk in this 70-page sampler.
Working on a B2B Startup?
Learn B2B customer development with our free email course: