Thor Muller was one of the co-founders of customer support community startup Get Satisfaction.
In 2007, Get Satisfaction generated a lot of buzz when they created customer communities hosted outside of businesses's websites.
The communities were very active and a lot of content was being created. Get Satisfaction now had to figure out how to generate revenue with their B2B2C platform.
One of the first companies that showed interest in paying for Get Satisfaction was ecommerce mega-retailer Zappos.
As an online retailer carrying multiple brands, customers expected the Zappos representatives to be experts on the numerous brands of shoes they sold.
To fulfill those expectations, Zappos wanted to be able to have their representatives go and answer questions in hundreds of brand communities on Get Satisfaction.
It was an interesting opportunity and Zappos was willing to pay for the solution.
The team at Get Satisfaction decided to build tools to allow Zappos to manage these hundreds of communities; tools that, ultimately, only Zappos needed.
The fact is that when you're talking to one customer it's very easy to fall prey to their specific needs that may not be representative of the whole market. – Thor Muller, Get Satisfaction Co-Founder and Author
Although the features that Get Satisfaction built for Zappos were not completely lost, the team quickly realized that the needs of Mint, another prospect, were much more representative of what their target market needed.
Mint had specific needs to improve their customer service processes. They wanted to have more security, more moderation, and more weight to organize the content of their community.
Get Satisfaction built several functionalities to close the deal with Mint, but those features became the foundation of all their enterprise software.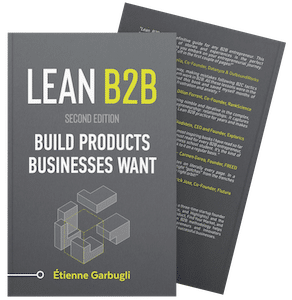 Download the First 4 Chapters Free
Learn the major differences between B2B and B2C customer development, how to think about business ideas, and how to assess a venture's risk in this 70-page sampler.
Working on a B2B Startup?
Learn B2B customer development with our free email course: