As a rule of thumb, you can only capture a portion of the value that your customers get from your product.
In other words, if your customers save $500k a year because of your product, you can only ask for a fraction of that amount.
Understanding the value of your solution means understanding its organizational impact. Will only one person be impacted? A whole department? The whole company? How much time can be saved? How much more revenue can be generated?
The Task/Time Investment Matrix
Products that can generate a high Return on Investment (ROI) have the most impact, and solutions that can make an economic buyer or someone influential look good or reach their annual objectives are the easiest to sell.
If your solution is not moving the needle, it's not worth pursuing. Your target customer must be able to benefit from your product.
To understand the impact of your product, fill out a solution impact grid as follows:
As your customer base grows, ask yourself:
How did the world change for our customers after we solved their problem?
What kind of ROI did they receive?
Who benefits the most from the solution?
Who looks good in the process?
In B2B, we're looking for a big pain or a big gain that can be tied to a budget, a problem that will deliver a big ROI. Looking at the impact of your product on organizations is a great way to set the price tag for your solution.
More on The Investment Matrix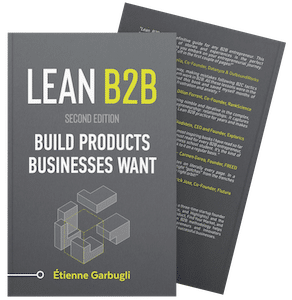 Download the First 4 Chapters Free
Learn the major differences between B2B and B2C customer development, how to think about business ideas, and how to assess a venture's risk in this 70-page sampler.
Working on a B2B Startup?
Learn B2B customer development with our free email course: