Customers don't care about your solution. They care about their problems. – Dave McClure, 500 Startups Founding Partner and Investor
As you prepare to engage with early adopters to validate your target market, it's important to remember that you need their help and, not the reverse.
To be successful, keep in mind that:
It's about them – You need to speak to their ego and make them feel smart and esteemed. It's about their expertise and interests and it's on their terms.
Their time is important – It has to sound like it's a short meeting. Twenty minutes means half an hour and 30-40 minutes means an hour.
You're not selling – You have to build a relationship before you attempt to sell anything. Think how much you like receiving cold emails from random companies…
It's not for them – You're solving the problem for other members of the industry, not directly for them. It also has to be clear from the start that you're not in the business of creating custom solutions.
At the time of reach out, early adopters will do some kind of background check on you as a person and your company.
If you haven't done so already, you should build a smoke screen site or a landing page that contains, at a minimum, your value proposition and a way to get in touch with you.
Sophisticated landing page tools like Unbounce and LaunchRock have options to capture email addresses, manage social sharing and score referrals, but at this point, a simple landing page should do.
If you have professional and personal social media accounts (you should) on LinkedIn, Twitter or other websites, you should also make sure that they are up to date.
The critical thing is to make sure that the story, profile and messaging you tell early adopters is consistent with what can be found online.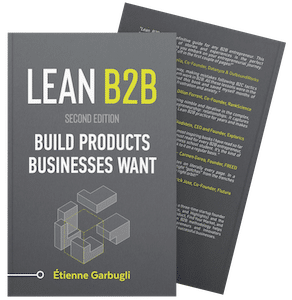 Download the First 4 Chapters Free
Learn the major differences between B2B and B2C customer development, how to think about business ideas, and how to assess a venture's risk in this 70-page sampler.
Working on a B2B Startup?
Learn B2B customer development with our free email course: