Many entrepreneurs start off as consultants to pay the bills while they explore business opportunities.
Working as consultants gives them visibility into the business problems of companies, build proximity with customers, and allow them to develop domain expertise around their consulting services, which can then be leveraged to build startup success.
They can do customer discovery with their clients, learn about an opportunity, test value propositions, and create a productized — standardized — solution when they identify an opportunity for a new product.
This approach is a great way to bootstrap a startup with consulting revenues. Companies like Mailchimp, Basecamp, Contentstack, and Hootsuite all began as service companies.
How HootSuite Transitioned From Consulting to Product
Social media management platform Hootsuite was spun out of Invoke, an application development and social media marketing agency.
In the early 2000s, the agency's partners, Ryan Holmes, Dario Meli, and David Tedman, were using the agency's extra capacity to experiment with products.
They built a CMS, sports league management software, an ecommerce platform, and several more products in their search for a big wave.
At the time, Invoke's social media team was creating campaigns on Twitter and Facebook. They were managing dozens of accounts, often using five or more windows at a time. Their workflow was causing mistakes, and it was making the work difficult to manage.
Their challenges were brought to the attention of the owners. To test the market, they tasked a small team with the creation of a social media management tool.
Their product launched in 2008. It was simple, but it was enough to start testing internally. Although there were better-funded alternatives on the market, Hootsuite began to garner attention almost the day it launched. Through many refinements, customer referrals, and some virality, the product's popularity began to grow.
Today, Hootsuite is the global leader in social media management with over 18 million customers. The product that started out as a side project in an agency is now used by employees in more than 80% of the Fortune 1000 companies.
Looking To Start Your Transition? Get a Bonus Chapter to Help Transition From Consulting to a Scalable Product
The Challenge of Starting as a Service Business
Starting off as a consulting firm can be a great way to reduce the risks of starting up while funding product development. To get out of consulting however, your solution must be scalable. It's important to avoid building a product for a market of one.
Here's a great talk by serial entrepreneur Alex Cowan on Getting from Consulting to Scalable Products:
More on Consulting Products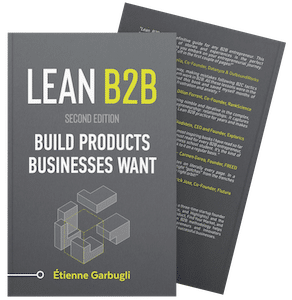 Download the First 4 Chapters Free
Learn the major differences between B2B and B2C customer development, how to think about business ideas, and how to assess a venture's risk in this 70-page sampler.
Looking for a Business Idea?
Join our free email course on finding B2B business ideas: