The story of how talent management startup Taleo landed Hewlett-Packard as an early client is inspiring. It's a modern David and Goliath story.
The CEO of a small Canadian startup goes to Silicon Valley armed only with a vision and wins over an enterprise giant. Follows success, growth and a flurry of clients around the world.
To many investors, this is what successful product-market validation in the enterprise should be: big and bold.
To many entrepreneurs, this story can be intimidating.
It's an inspiring story but, it's also a story of exception. Few entrepreneurs had to do what Taleo CEO Louis Têtu did. Many successful companies have followed much smoother paths to product-market validation.
Louis Têtu was not a recruitment or talent management specialist, Taleo did not have a proven technology and, at the time, they didn't have a complete product but, Têtu was able to get an appointment with Carly Fiorina, one of the most powerful CEOs in Silicon Valley.
How did that happen?
Taleo Meets Hewlett-Packard
Then newly appointed Hewlett-Packard CEO, Carly Fiorina, had made a priority of better using the engineering talent in the company.
Although they had over 300,000 employees around the world, they were dissatisfied with the tools at their disposal to manage employee profiles and expertise.
Têtu, as a seasoned entrepreneur, saw an opportunity to help a newly appointed CEO solve a problem she had identified as a company priority. He took a chance and reached out to the CEO to understand the needs of Hewlett Packard, establish a relationship and convince her that Taleo could be the solution to their problem.
Têtu met with Fiorina on her own terms to present Taleo's vision; a vision for a product that solved Hewlett-Packard's problem, would be (almost) risk-free and would ultimately lead to a high return on investment for the company.
In other words:
Talent management was a priority for Hewlett-Packard;
A first contact was made to understand Carly Fiorina's vision, her needs and her expectations;
Têtu was perceived as a credible business partner;
A face-to-face meeting was organized based on the mutual understanding of the problem Hewlett-Packard was facing;
Têtu's vision sparked confidence in Fiorina;
Hewlett-Packard bought into Taleo's story, their ability to deliver, their approach and their estimated return on investment (ROI).
Great entrepreneurs recognize that behind every enterprise are normal people like you and me. Those people have needs, challenges, responsibilities, dreams and desires; there are plenty of ways to make them care.
How the Taleo CEO Made HP Care
This is the lesson all entrepreneurs need to remember:
Louis Têtu would have never succeeded had he not understood what was motivating Carly Fiorina. Têtu was able to make her care.
After many discussions, Fiorina agreed to work with Taleo. The solution became a hit and Hewlett-Packard became Taleo's first international client.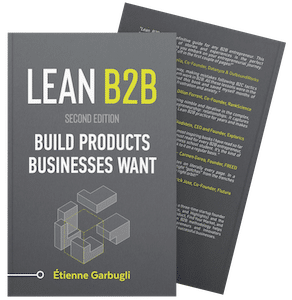 Download the First 4 Chapters Free
Learn the major differences between B2B and B2C customer development, how to think about business ideas, and how to assess a venture's risk in this 70-page sampler.
Working on a B2B Startup?
Learn B2B customer development with our free email course: