Good entrepreneurs learn from their own mistakes. Great entrepreneurs learn from others' mistakes. – Dave McClure, 500 Startups Founding Partner and Investor
There are reasons why nine out of ten B2B startups fail to find a profitable market.
And the great thing about starting a SaaS company in 2016, is that you don't have to make the mistakes entrepreneurs have made before you.
Founders like Steve Blank, Eric Ries, Bill Aulet and Jason Cohen have written tons of valuable content on improving your odds of success as a founder.
It's widely-available content yet… the causes of failure for B2B entrepreneurs are often very similar.
Here are the deadly sins I see time and time again:
Implementing technology that requires too much change in the company;
Implementing technology that changes too much the way people behave or work;
Building technology that is too hard to use;
Building technology that doesn't deliver on the promise;
Building technology that should be a feature of an established product, not a solution of its own;
Selling technology that doesn't have clear benefits and value;
Selling technology that can't avoid comparison to established players the prospects already know very well;
Selling to anyone, anywhere, regardless of your ideal customer profile.
Don't fail if you don't have to. Find mentors, get the best methodology and remain honest with yourself.
You'll already be ahead of the game if you do all this.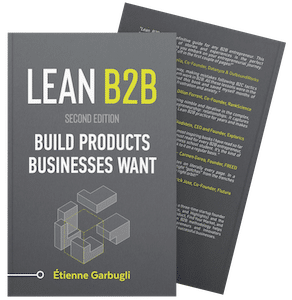 Download the First 4 Chapters Free
Learn the major differences between B2B and B2C customer development, how to think about business ideas, and how to assess a venture's risk in this 70-page sampler.
Working on a B2B Startup?
Join our free email course to learn all you need to know: