For my first startup, Flagback, I partnered with a small software development firm and we hired a full-time developer to build the core product.
We were four partners invested at very different levels working on a tool to help marketing agencies communicate on live websites for Quality Assurance (QA) and User Acceptance Testing (UAT).
Our approach was different from everything that existed at the time — we were adding a layer on top of the web working with various toolbars — and there was a lot of research and development involved.
We had planned for a twelve-month runway, but we never anticipated the six months of R&D it took to get the core engine to work on all browsers.
Our processes were immature. We worked with long delivery cycles, and, aside from usability tests, we only got prospects involved in the beta, nine months after company creation.
Nevertheless, the few businesses that participated in the beta were getting excited about Flagback's potential. We only needed to add one of the core features we had pushed back: team management. At this point, all flags or comments were publicly visible.
We were one month away from implementing the team management functionalities when we ran out of money. Running out of cash killed our momentum and created internal strife.
Because we had never anticipated the product development to take so long, we never tried to raise any funding.
The failure was our own fault. We had spent months working on (and over-thinking) features that would ultimately never get released. In the end, we never found out whether our solution would find a niche in the market.
Leaving an unfinished product on the table is frustrating. Shutting down Flagback was a difficult decision. You never want to be left wondering about what could have happened. The what ifs eat at you. Stay lean.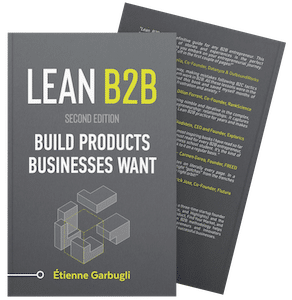 Download the First 4 Chapters Free
Learn the major differences between B2B and B2C customer development, how to think about business ideas, and how to assess a venture's risk in this 70-page sampler.
Working on a B2B Startup?
Join our free email course to learn all you need to know: