Great presentation decks are like poetry. There's rhythm and symmetry. – Dharmesh Shah, HubSpot Co-Founder and CTO
Preparing a pitch deck for solution interviews can be counter-productive. A visual aid can help, but it should not make you forget that your goal is to have a discussion, not present.
Solution interviews are not one-sided. However, it can be useful to leave a one-pager or a pitch deck with your prospects — especially those who are coaches — for them to share internally. Let them do the selling!
For your first solution interviews, you should try to keep the offer as simple as possible to help prospects quickly establish value. Your B2B pitch deck should be no longer than ten slides with large font and bullet points. You can use Guy Kawasaki's 10/20/30 Rule as reference.
The B2B Pitch Deck Structure for Solution Interviews
Your sales collateral should include (as a minimum):
A definition of the problem. What you're trying to solve and how this ties in with what was discussed in previous meetings.
A visual of the solution or a link to a demo to help prospects visualize the pain and the solution.
The benefits or a quantified expectation of ROI to help prospects understand the opportunity.
The underlying magic to help prospects picture what makes your solution different and worth considering.
The team members and/or the company vision to build trust and sell the evolution of your startup.
A rough idea of the pricing and the agreement you seek.
A call to action to provide ways to act beyond the pitch. What do you want people to do?
Since you don't know who will read your presentation after you leave, the pitch should be general and noncommittal. Your goal is to help your solution stay on the minds of your prospects, forcing them to consider the opportunity.
Another reason to keep your collateral general is for privacy. You don't want your collateral to be shared at large on the Internets.
More on the B2B Pitch Deck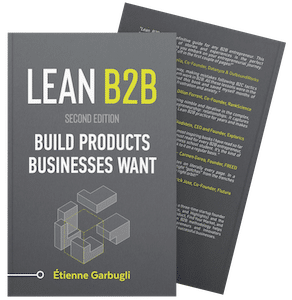 Download the First 4 Chapters Free
Learn the major differences between B2B and B2C customer development, how to think about business ideas, and how to assess a venture's risk in this 70-page sampler.
Working on a B2B Startup?
Learn B2B customer development with our free email course: