Suppose you've signed up a few early adopters as customers. You're starting to get a sense of who your ideal customer should be. You want to expand and find B2B customers. How do you know who to reach out to?
The first thing to do is to figure out what budget is paying for your solution.
In B2B, budgets are rarely created. Departments get a certain amount of money at the beginning of the year and they're accountable for maximizing their investment.
If you know what budget you need to target, you can find the economic buyer, the decision-making unit and your competition for the same dollars.
What Budget Are You Targeting?
Are you targeting…
The marketing budget?—You're competing with Google AdWords, Facebook Ads, HubSpot or Marketo for marketing spend.
The IT budget?—You're competing with Amazon Web Services, Microsoft Azure, ServiceNow or Apptio for IT dollars.
The Human Resources budget?—You're competing with Taleo, Workday, LinkedIn Recruiter or Zenefits for the HR budget.
Once you know what budget you're targeting and what else the organization is spending money on, you can understand what your solution needs to replace/displace.
How to Find B2B Contacts (And Their Titles)
Experiment 27 CEO Alex Berman shares two great ways to find the exact roles or titles to contact in businesses. I added a third one below.
LinkedIn Jobs: If your solution replaces Sharepoint or can be a complement to Sharepoint (example), you can use LinkedIn Jobs to find companies using Sharepoint (list here). Once you know which organizations recruit for 'Sharepoint', you can look at the titles of the people within the target organizations with those expertises (see Alex's example for Visa).
Technology Lookup Tools: Datanyze and BuiltWith allow you to search companies by tech stacks. For example, if your product works best with Google Analytics, you could use these tools to create lead lists. Combined with LinkedIn, you can pinpoint the exact roles and titles you're looking for.
Annual Reports: You can find out which public companies work with new vendors and what they purchase by looking at their annual reports. These reports are publicly available (See Constant Contact's Annual Report). They can help you figure out which companies have an "early adopter" mindset (i.e. purchase early / new tools).
In the video, Alex also talks about why founders are the best point person for companies under 100 employees and why director-level make the best entry points for organizations between 100 to 250 people.
The full video is worth watching.
More on Finding B2B Contacts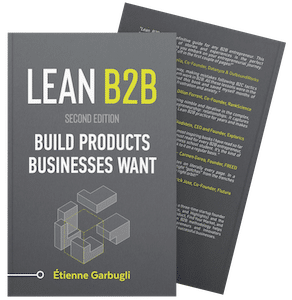 Download the First 4 Chapters Free
Learn the major differences between B2B and B2C customer development, how to think about business ideas, and how to assess a venture's risk in this 70-page sampler.
Working on a B2B Startup?
Learn B2B customer development with our free email course: