In 2007, Jason Cohen sold SmartBear Software, a company he had founded to create peer code review tool Code Collaborator.
When the entrepreneurial bug hit again, Jason had a few ideas he wanted to explore. One of these ideas was to create a spin-off of a marketing analytics tool he had developed at SmartBear. In his words, it was so accurate that it could tell when a (paper) catalog hit the desk of a prospect.
Jason quickly had a prototype ready to show to the 20 to 30 marketing people he met.
Although everyone thought the tool was "awesome" and they felt it was a good idea, most of the prospects were not ready to pay the $50 a month that Jason intended to charge. Some were even expecting it to be free.
It was a good idea, but Jason could not see a business forming around it. The market was very fragmented; everyone had different needs for the product. It would be very hard to scale a product that does many different things.
In parallel, Jason was also exploring the idea of offering premium WordPress hosting.
This time, to understand the market and validate the pain, Jason found experts on LinkedIn, reached out for quick interviews and gathered a lot of information on the problem.
The more people Jason spoke with, the clearer the opportunity became. It was night and day compared to the marketing analytics tool.
After 30 interviews, he could tell that many prospects had the same needs, the same reality and that there was agreement on the price.
Although Jason loved the analytics idea, he had to be honest with himself. The path for the product and the market weren't clear. It would be a lot harder and riskier than the WordPress hosting idea.
As Jason moved away from the analytics app, the premium WordPress hosting idea came together. WP Engine was founded in 2010 and has been growing ever since.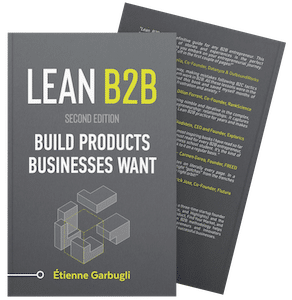 Download the First 4 Chapters Free
Learn the major differences between B2B and B2C customer development, how to think about business ideas, and how to assess a venture's risk in this 70-page sampler.
Working on a B2B Startup?
Learn B2B customer development with our free email course: