B2B SaaS has been exploding these past few years. Although there are more SaaS accelerators and SaaS investors funding B2B ventures than ever before, not all investors will make great partners for your venture.
To help founders narrow down their search, I created a list of the top B2B SaaS investors and SaaS accelerators based on founder feedback and each firm's success in B2B:
B2B SaaS Investors
Accel Partners: VC firm investing in early-stage B2B startups. Accel Partners is one of the most well-known venture capital firms in the world. Their investments include SaaS leaders like Dropbox, Slack, Atlassian, Docusign and Braintree; a real who's who of the best SaaS businesses.
Bessemer Venture Partners: BVP are the creators of the Top 10 Laws of Cloud Computing and SaaS. They're one of the most respected SaaS VC firms on the market with more than $4 billion invested in over 130 companies worldwide. When Bessemer decides to invest, other SaaS investors typically follow.
Emergence Capital: One of the oldest enterprise-focused VC firms in the US. Emergence's first investment was in Salesforce in the 90s. They've since invested in Yammer, Veeva, Box, and many other SaaS market leaders. They were early SaaS investors in video-conferencing startup Zoom, which IPO-ed earlier this year with a market cap of $17.7 billion.
Matrix Partners: The VC firm affiliated with SaaS economics expert David Skok. Skok creates the Private SaaS Survey completed by more than 400 companies each year. Matrix Partners invested in Carbon Black, HubSpot, and Zendesk, among many others. Matrix Partners tends to invest early-stage. They've been expanding their reach in China and India these past few years.
Point Nine Capital: A Berlin-based Angel Venture Capital firm focused on B2B SaaS and online marketplaces. One of the most active firms in Europe with investments in Zendesk, Geckoboard, ChartMogul, etc. Christoph Janz, creator of The SaaS Funding Napkin and Michael Wolfe, co-founder of Vontu, are both part of Point Nine's leadership group.
SaaStr Fund: The investment arm of serial entrepreneur Jason M. Lemkin, the SaaStr Fund invested in many of the best SaaS businesses (Algolia, Mixmax, Talkdesk, etc). The fund dedicates between $500K and $6 million per startup. The team at SaaStr also manages SaaStr Annual, the largest independent SaaS conference in the world.
Scale Venture Partners: Scale VP often gets recommended by B2B entrepreneurs. They invested in more than 100 companies over the past 20 years. Their portfolio includes enterprise SaaS leaders like HubSpot, Box, and Exact Target.
Bonus Venture Capital Firm
In-Q-Tel: In-Q-Tel is the CIA's investment arm. It's widely perceived as a stamp of approval for technologies secure enough for government agencies. It's never a bad idea to get In-Q-Tel to invest, especially if you're going enterprise. Palantir Technologies, Spotfire, and MongoDB received funding from In-Q-Tel among others.
Get the Full List of 100+ B2B VC Funds & Accelerators for Free
B2B SaaS Accelerators
Acceleprise: Acceleprise has accelerators on both the East Coast (Washington, DC), and the West Coast (San Francisco). They have one of the most complete accelerator programs out there, and a great network of mentors. Acceleprise also has an investment fund. Their overall focus is early-stage B2B SaaS and enterprise technology, perfect for B2B founders.
Alchemist: Dedicated to enterprise startups, Alchemist has one of the best training programs and an extremely high-caliber network of mentors. Great companies that passed through their program include BrightFunnel, Selligy, and Eloquent Labs.
L-Spark: L-Spark is a Canadian enterprise SaaS accelerator. Their goal is to help enterprise SaaS and cloud startups secure Series A investment. They worked with 47 B2B SaaS startups. Their startups have gone on to raise more than $30M in follow-on funding.
Y Combinator: Although not B2B-focused, YC is the largest accelerator (B2B and B2C combined). Stripe, Optimizely, Dropbox, Xobni, Docker, and Mixpanel are some of the startups that graduated from YC. These past few years, Y Combinator has been creating additional programs to fund more AI, hardware, biotech, and educations startups.
AngelPad: Although not entirely focused on B2B SaaS, AngelPad is the highest-ranked U.S accelerator (sharing the top spot with Y Combinator). Some of the B2B startups that graduated from their program include Pipedrive, DroneDeploy, Buffer, and Periscope Data. Not a bad list!
Get the Full List of 100+ B2B VC Funds & Accelerators for Free
How to Pick a B2B SaaS Venture Capital Firm or SaaS Investors
A lot of the top tech VC firms have their roots in B2C.
As the demand for SaaS venture capital grew, many of these firms expanded by adding B2B partners.
Although many of the biggest VC firms can be great partners for your business, the best B2B growth partners for B2B entrepreneurs are "B2B native".
Raising capital from B2B native investors ensure that:
Your growth is evaluated with appropriate B2B expectations;
There's no desire to shift the business to a B2C model in order to grow the total addressable market;
Your investors have deep understanding of customer success, complex sales, account-based marketing, distribution, partnerships, and other common B2B strategies;
Your investors already have large networks in businesses. They can help you find partners and recruit talent.
Any investment from one of the best venture capital firms will fuel your B2B business. By selecting partners who understand your reality and market, you'll increase your growth trajectory and reduce the risk of friction down the road.
Get the Full List of 100+ B2B VC Funds & Accelerators for Free
Did we miss SaaS investors or a SaaS accelerator B2B entrepreneurs should know? Let us know by tweeting at @LeanB2B.
More on the Best SaaS Investors in B2B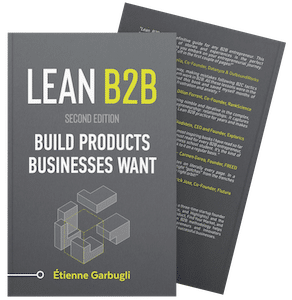 Download the First 4 Chapters Free
Learn the major differences between B2B and B2C customer development, how to think about business ideas, and how to assess a venture's risk in this 70-page sampler.
Looking to Extend Your Startup's Runway?
Join our free email course on B2B startup financing: