Startup founders often have difficulty seeing the forest for the trees. They get stuck on a business problem and can't seem to find a solution.
B2B conferences are a great way to find inspiration. Interacting with other founders and executives can help generate new ideas and uncover strategies that truly move the needle.
Sometimes, a spark is all we need.
To help founders find the best conferences for their needs, I have put together a list of the best B2B conferences in 2019:
General Conferences for B2B SaaS Founders
SaaStr Annual – February 5-7, 2019 / San Francisco
Founded 5 years ago by serial entrepreneur Jason Lemkin, SaaStr Annual brings together over 12,500 SaaS executives, founders, and VCs. It's a good place to network, strike deals, and discuss a variety of topics (SaaS business, fundraising, enterprise sales, customer success, metrics, etc). Based in Europe? SaaStr Europa brings together 2,500 B2B founders, executives, and VCs in Paris, France.
Unleash – March 10-12, 2019 / San Diego
Unleash (ex-Revenue Summit) was started by SalesHacker. It focuses on sales, marketing, and the intersection between both professions. With a strong emphasis on processes, account-based marketing and sales tech, it's a good event to go a bit deeper into B2B sales and processes.
Marketing Nation Summit – March 24-28, 2019 / Las Vegas
Marketo's conference is all about marketing in the B2B space. It's an interesting alternative to Salesforce's conference, and it's particularly relevant if you're selling to marketing executives.
B2B Rocks – June 6-7, 2019 / Sydney, Australia & September 12, 2019 / Paris, France
B2B Rocks focuses more on local expertise than SaaStock or SaaStr Europa. Because of that, the events attract a bit of a different crowd. Whether you attend in Paris or Sydney, you'll learn tactics to grow your B2B SaaS product.
Inbound – September 3-6, 2019 / Boston
Each year, HubSpot's conference attracts thousands of sales and marketing professionals. Inbound is a really good event to network and learn about marketing automation, content marketing, and account-based selling.
Hyper-Growth – June 10 / London, United Kingdom, September 3 / Boston & November 18, 2019 / San Francisco
Hyper-Growth is Drift's growing sales and customer-centricity event. In early September, you can easily attend both the Hyper-Growth and Inbound conferences.
Business of Software – September 16-18, 2019 / Boston
The Business of Software (BoS) conference focuses on networking opportunities, teaching participants how to build better products, and learning how to become better entrepreneurs.
SaaStock – October 14–16, 2019 / Dublin, Ireland
The original European SaaStr. It covers a lot of the similar topics (Sales, Customer Success, Growth, and Financing) with a lot of the same speakers, but it's an excellent opportunity to get acquainted with some of the best European founders and investors.
Dreamforce – November 19-22, 2019 / San Francisco
Salesforce's annual event. Dreamforce was one of the first B2B conferences and it's by far the largest event with nearly 200,000 participants, 3,000 sessions, and a lot of deals and money being thrown around.
B2B Conferences Around Specific Business Challenges
Many B2B companies have created conferences around their customers' pain points. If you share these challenges, or wish to dive deeper into topics, like customer success, content marketing or inside sales, there are other really great conferences you can attend:
B2B Content Marketing
Customer Success
B2B Sales
Industry Events
Events and conferences are shortcuts to target markets. To speed up product-market validation or accelerate your startup's growth, you can attend your customers' industry events or visit your customers' watering hole.
Maybe it's the HR Technology Expo if you're targeting HR professionals or the DIA 2019 Global Annual Meeting if you sell pharma companies.
Before attending any conference, try to understand the types of professional targeted by the event organizers. You'll get a positive return on investment if there's a fit between the event's attendees and your ideal customer profile.
If there's no fit, the event might not be worth your time.
More on Events & Watering Holes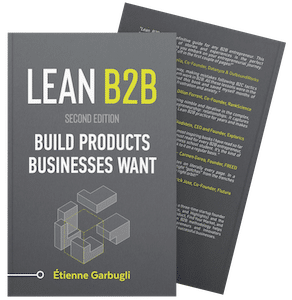 Download the First 4 Chapters Free
Learn the major differences between B2B and B2C customer development, how to think about business ideas, and how to assess a venture's risk in this 70-page sampler.
Working on a B2B Startup?
Join our free email course to learn all you need to know: