"You have to go where the customer is." – Michael Wolfe, Vontu Co-Founder and Startup Advisor
A "watering hole" is where your prospects gather for pleasure or for work. It can be a conference, a tradeshow, a seminar, a restaurant, a bar, an hotel, or a professional association networking event.
Finding the watering hole can go a long way in helping you meet prospects to speed up validation, but it requires an understanding of your prospects' behaviors. You need to figure out what interests they share and what events they value.
One entrepreneur was working on a product for doctors. Through the grapevine, he overheard that doctors congregated in a certain waiting room on their breaks.
From this moment on, the waiting room became the entrepreneur's second office. He began to casually chat with doctors to gather information and find leads.
A waiting room is the perfect example of a watering hole that only entrepreneurs with knowledge of their prospects' behavior could find.
How Spotfire Leveraged Watering Holes Marketing
For a Swedish data visualization startup targeting the American market from Europe like Spotfire, watering holes proved critically-important.
Spotfire became very successful when they decided to focus exclusively on their life science customer segment. The location of their sales office became instrumental to their success. Being located in Cambridge, MS—within driving distance of the large pharmaceutical companies in New Jersey—allowed the Spotfire sales executives to get a lot of face time with their prospects.
When it came time to validate a new customer segment (the energy sector), Spotfire President Rock Gnatovich asked his sales team to find the watering hole of their new prospects.
What they quickly found out was that BP, ExxonMobil, Shell, and many of the other large American oil companies had offices in the Energy Corridor in Houston, TX. Company executives met over lunch or drinks in just one or two restaurants.
To meet oil company executives, gain visibility, and be perceived as a member of the community, Spotfire decided to set up the company's new sales office in the same building as the two restaurants. That proximity led to quick validation, many deals in the energy sector, and eventually, a $195M acquisition by Tibco Software.
Find your market's watering hole and speed up your product-market validation process.
More on Watering Holes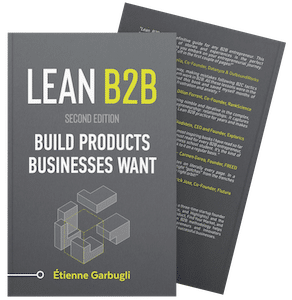 Download the First 4 Chapters Free
Learn the major differences between B2B and B2C customer development, how to think about business ideas, and how to assess a venture's risk in this 70-page sampler.
Working on a B2B Startup?
Learn B2B customer development with our free email course: