Total immersion in the market is extremely important. Read everything you can to understand what you can do better than the competition. – Martin Huard, Ex-Admetric Co-Founder and CEO
With so many magazines, reports, surveys, whitepapers and blogs available online, it's very hard to justify not conducting secondary research on your target market.
A few searches on Google allow you to find dozens of blogs and reports for just about any industry. Depending on the target market you chose, Forrester Research, Gartner, Forbes, Marketing Sherpa, Tower Watson or other independent analyst publications might have already done the heavy-lifting and synthesized the industry for you.
Find the relevant research reports (Gartner, IDC, Forrester, etc.) that everyone refers to. Some stats and ideas are gospel in the industry; SlideShare presentations are a great way to make these data points surface.
Sign up to all the newsletters, blogs and websites that your prospects read. You can find these publications by looking at the links they share on social networks like LinkedIn, Twitter, etc.
Set up a few Google Alerts and Twitter keyword alerts with terms from your pitch to follow the trends. You will be more relevant if you keep up with the latest news of the industry.
No matter what source you choose, the objective of conducting secondary research is to figure out where the industry is headed, identify the players in the space, understand the types of products being sold and their perceived value by customers (if any).
If you can start making sense of the decision-making process of prospects and find the industry influencers, you're doing very well. Your goal is to become one of them.
More on Conducting Secondary Research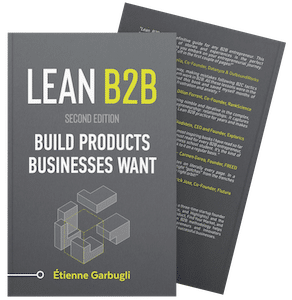 Download the First 4 Chapters Free
Learn the major differences between B2B and B2C customer development, how to think about business ideas, and how to assess a venture's risk in this 70-page sampler.
Working on a B2B Startup?
Join our free email course to learn all you need to know: