Contrary to many entrepreneur's beliefs, businesses don't have money sitting in a safe as they wait for visionary entrepreneurs to bring new B2B business opportunities to their doorstep.
Business departments typically get sign-off on a certain budget to achieve their annual objectives at the beginning of the year and they're accountable for maximizing their investment. Budgets are rarely created. To sell in B2B typically means getting teams to reassign existing budgets.
Get the Money Map Template to Find B2B Business Opportunities (Free)
If you understand how money is currently being spent, you can understand your prospects' priorities (and it can go a long way in finding business opportunities).
Introducing the Money Map
To identify problems and opportunities that matter for businesses (for solutions they'll pay for), you can create a Money Map (a visual representation of a prospect's expenditures) to track spend flow.
Your objective with this map is to understand:
The key problems of your prospects;
The motivations for spending money to address these problems;
The prize or reward — how much money is available if the budget is successfully transferred;
The perceived alternatives and competitive landscape.
Example of a Money Map to Find B2B Business Opportunities
The following example of a Money Map is for a segment we'll call "marketing departments for small retail chains with fewer than nine stores." In other words, small marketing department expenditures:
This type of analysis can best be conducted after speaking with a few prospects or contacts working in the target segment. It can also be very useful after the problem interviews when you'll be working with real internal budget data.
Working with the previous example, we can tell that the biggest prize (budget) and perhaps the biggest problem for these marketing departments is reaching local customers to gain visibility in local markets. Their current solution, newspaper ads, may be a bit outdated…
Get the Money Map Template to Find B2B Business Opportunities (Free)
Although this analysis has value, it only helps you identify the opportunities companies are already aware of. Unless your prospects are true innovators, they may not have thought of some of the innovations that your team will imagine.
Get started testing market segments using your own version of a Money Map. Once you have a Money Map, you can test value proposition hypotheses and start finding business opportunities.
More on Finding Business Opportunities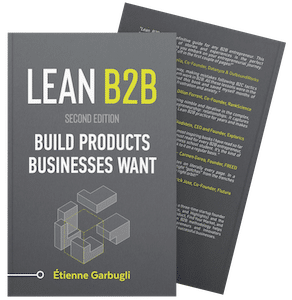 Download the First 4 Chapters Free
Learn the major differences between B2B and B2C customer development, how to think about business ideas, and how to assess a venture's risk in this 70-page sampler.
Looking for a Business Idea?
Join our free email course on finding B2B business ideas: