The best time to be an entrepreneur is when you, and your team, have really learned about an unmet need, understand the customer's pain and you are ready to take the plunge. – Ken Morse, Serial Entrepreneur
The most successful startups are the work of entrepreneurs with previous experience in the industry they're targeting and a passion for solving the problems. Experience gives them the edge and network to get the ball rolling, while passion gives them the dedication to follow their ideas to fruition.
B2B business ideas come from gaps in the market. Entrepreneurs need the initial hunch to find the problems and the dedication to go and validate the pain; they don't need a solution on startup.
Understanding Your Business Expertises
There are a near infinite number of business opportunities. To make decisions, entrepreneurs need to learn to close doors early. Listing the passions and experiences of each founding team member can already help close a few doors and get the discussion going.
As you gain experience in your career, you typically build two types of expertise: functional expertise like development, sales management or merger and acquisition and industry expertise like knowledge of the aerospace or retail industries.
Entrepreneurs may not realize it, but their previous work experiences gives them visibility on a set of problems and opportunities. Looking at past experiences is a great way to find business ideas. In fact, a study by university professor and author Amar Bhidé reveals that more than 50% of the Inc. 500 got the idea for their company while working on a project at their previous employer.
While you may not be passionate about the problems you've been exposed to, that knowledge is part of your competitive edge upon start up. To illustrate this concept clearly, let's look at a typical founding team:
B2B Business Opportunities From Your Expertise
Working with the example above, you can see that the founding team members share an industry expertise in banking and have a mutual passion for travel.
The founders could decide to leverage their experience in the banking industry, follow their mutual passion for travel or decide to do something completely different following the interests of one of the founders. At this point, it's a risk mitigation decision.
The important thing early on is to agree on a vision, mark down hypotheses and get the ball rolling.
More on B2B Business Opportunities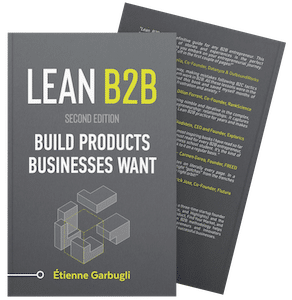 Download the First 4 Chapters Free
Learn the major differences between B2B and B2C customer development, how to think about business ideas, and how to assess a venture's risk in this 70-page sampler.
Looking for a Business Idea?
Join our free email course on finding B2B business ideas: