It's hard to find good B2B business ideas.
In fact, it's one of the most common questions I get when people read Lean B2B:
"What are some ways to find B2B business ideas?"
"How do I come up with good business ideas in B2B?"
"What are some opportunities we should be looking at?"
As a founder, you want an opportunity you can execute on, a problem you can be passionate about and that, over time, can lead to a sustainable competitive advantage. It's not a decision you want to rush.
To help out, I put together a list of 6 ways to find good B2B business ideas:
1. By Exploring Your Workplace
I often meet aspiring business to business entrepreneurs working for a company looking for the right idea in order to launch their business.
What they don't know, is that they're probably already aware of the problem their startup should be solving; they just haven't figured it out.
The experience and expertise you have is a great starting point to help identify market opportunities.
To find ideas, you need to find problems. And problems are everywhere in your workplace.
Problems worth solving are typically invisible from the outside. By being stationed in the organization in a position to observe the way people work around problems, you get privileged access to create new business opportunities.
2. By Going on a Listening Tour
One thing that's often overlooked is that, Excel is the most-widespread programming language in the world. In many businesses, people have built extremely sophisticated Excel models. Those spreadsheets are often central to business operations, and that's a liability for companies.
Excel spreadsheets are often expressions of needs. Especially if they're shared across departments and/or consumed daily or weekly. Seek out Excel documents in your work. Talk to users. Understand the real needs. Find other businesses with similar challenges. Take it from there.
3. Going on a Safari to Find Good B2B Business Ideas
Entrepreneur Amy Hoy recommends going on a Sales Safari seeking expressed problems in discussions on the Internet.
The idea is that if you go through forums, communities, Quora questions, LinkedIn / Facebook groups, Reddit threads, blog comments, open customer service websites or competitor support forums, you can find needs and problems. Here's one I found on GrowthHackers: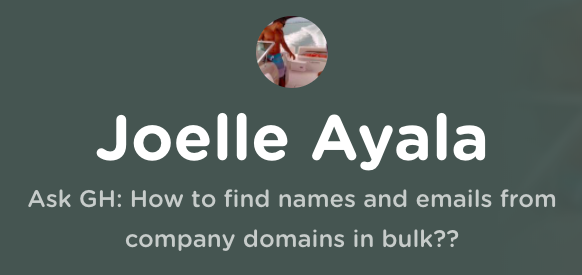 The more pain (E.g. ??), the better. Here's Amy explaining the technique.
4. Diving Deep Into Your Unique Knowledge
In a previous post, we talked about how the best business opportunities are a combination of domain expertise (functional or industry expertise), solution expertise and passion.
What do you know better than anyone else? What did you learn in your previous work that you could now leverage? What expertise have you been building?
Good to Great Author Jim Collins created the Hedgehog Concept to help entrepreneurs find their focus. To Collins, that focus lies at the intersection of what you're passionate about, what you can get paid for and what you can be uniquely good at. It's a great concept. Try it out, what's your business Hedgehog?
5. Seeking Out Requests for Startups
Investors spend their days thinking about what businesses they'd like to fund. Why not reverse the search process and solve a problem they're already looking at?
By going through investors' social media accounts or personal blogs, you can find nuggets like this one and that one. If that's not enough, Y Combinator has put together a list of startups they'd like to see. This approach should help with securing financing for your business. 🙂
6. Finding Good B2B Business Ideas by Doing Series of Customer Interviews
By far my favourite approach, but also the approach covered in Lean B2B: Build Products Businesses Want, customer interviews allow you to systematically explore industries, tasks, job types, or even market competitors.
Start with a series of divergent problem interviews. Explore broadly. When you home in on an opportunity, conduct problem interviews with early adopters to better understand the problem space.
There's a lot of ways to find good business ideas in B2B. To increase your certainty, you'll probably want to combine one or two of these approaches. Business ideas may be everywhere, but good B2B business ideas are hard to find.
(Bonus) How to Find B2B Business Ideas in Your Workplace
Here's a little framework I've used to make the good ideas come out in a workplace:
Starting today, every time you begin a sentence with:
Why can't this…
How come this won't…
Couldn't this…
If only this…
Or any variation of this.
Write down the problem that follows. If nothing else, this will make you aware of the opportunities around you.
Here's an example from my past work to get you started:
Problem
Sending one-question surveys via email is painful.
Once your list starts to grow, take a few minutes to score each problem on the following:
How to Evaluate Your New Business Idea
How painful is the problem? – Is this an Hair-on-Fire problem or a Nice-to-Have?
How many people experience this problem? – Are you the only person impacted or are all team members feeling the pain?
How much would a solution reduce the pain? – Would it be a 5% improvement or a 10X impact on the entire organization?
Is status quo an option? – Can the organization live with the pain caused by this problem?
Would my boss allow the purchase of this solution? – Would there be budget available if I were to solve this problem?
Your ranking could look something like this:
| Problem | Pain | People | Impact | Status Quo | Budget |
| --- | --- | --- | --- | --- | --- |
| Sending one-question surveys via email is painful. | Low | 1 to 5 | Low | Yes | No |
| … | | | | | |
If you can find a problem that checks all the boxes, you might be able to turn a job into a B2B business opportunity.
Best of all, if you end up solving your own problem, you'll have unique insights into the problem and the passion to solve it.
Try this out for a few weeks and see what comes of it. If you're feeling wild, you can decide to include problems shared by other team members as well.
This will give you a broader view of the full problem set.
Still Need Help Finding Good Business Ideas in B2B?
I put together a completely free training on How to Find and Evaluate B2B Business Ideas:
During this practical training, you'll learn:
How to go about finding business ideas by doing exactly what half of the Inc. 500 founders did
How to find and identify problems worth solving in B2B
How to systematically evaluate business problems and opportunities
Whether or not B2B entrepreneurship is right for you
All this in just an hour!
RSVP and signup right here.
More on Finding Good B2B Business Ideas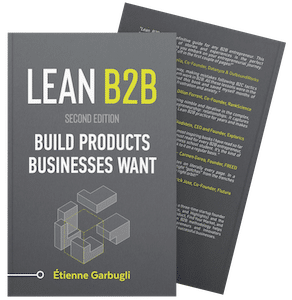 Download the First 4 Chapters Free
Learn the major differences between B2B and B2C customer development, how to think about business ideas, and how to assess a venture's risk in this 70-page sampler.
Looking for a Business Idea?
Join our free email course on finding B2B business ideas: