One of the ideas that came out of The Lean Startup by Eric Ries is to engage customers as consultants to solve their problems before creating a commercial version of the solution.
The founders of enterprise search startup Coveo are seasoned entrepreneurs with a lot of experience selling to large businesses (part of their team built Taleo). With Coveo, they decided to take the Lean Startup techniques a step further by moving into their clients' offices. Small development teams would stay on site at clients' offices until they were able to solve the customers' problems. It was a great use of ethnographic research methods for customer discovery.
In B2B, proximity to customers is key. By having multiple development teams stationed at client offices, Coveo was able to build custom integrations, take note of commonalities and, eventually, build a standardized product.
On-site teams can report on customer pains, the context of use of the product, stakeholders, underlying needs and enterprise reality. All of this information feeds back into the sales process and product positioning.
Moving in with customers allows you to multiply your reach when doing B2B customer discovery. You can build different installations, evaluate different business types, and map out all the stakeholders your sales team will need to convince when comes time to scale the sales efforts.
How can this technique be applied to your startup?
More on Ethnographic Research Methods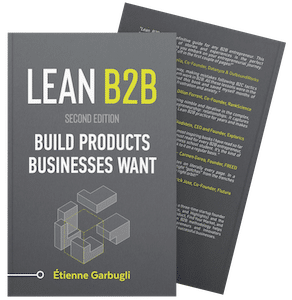 Download the First 4 Chapters Free
Learn the major differences between B2B and B2C customer development, how to think about business ideas, and how to assess a venture's risk in this 70-page sampler.
Working on a B2B Startup?
Learn B2B customer development with our free email course: