There's been a lot of buzz around pivots ever since Eric Ries coined the term in a blog post in 2009.
Ries says that a pivot is a structured course correction designed to test a new fundamental hypothesis about the product, strategy, and engine of growth. Pivots imply keeping one foot firmly in place as the company shifts in a new direction.
An effective pivot takes learning from a previous model and makes big or small adjustments (Do not jump from idea to idea without absorbing the lessons learned from the previous model).
To validate quickly, you must pivot startup quickly, while avoiding getting caught in a model that won't allow you to build a business.
In The Lean Startup, Ries highlights some of the following pivots as possibilities:
Types of Pivot Startups Should Know
Zoom-in pivot: A feature of the product is so useful that it becomes the whole product.
Zoom-out pivot: In the reverse situation, the whole product is included in an even larger product or platform. An example of a zoom-out pivot is Docker (the DotCloud pivot).
Product value pivot: The product benefits and promised return on investment did not catch the attention of the stakeholders. Changing the value proposition and positioning can help establish value more quickly.
Value capture pivot: The solution had value, but the revenue or business model were wrong for the customers. A new revenue model might open up new revenue opportunities.
Channel pivot: Changing the way the technology is brought to market. For example, changing from a direct sales model to a reseller go-to-market strategy.
Technology pivot: Changing the way the solution delivers results by using a completely different technology.
Customer need pivot: The problem solved was not very significant, or money wasn't available to buy. This may require solving a different problem with a different solution.
Customer segment pivot: The product attracts real customers, but not the ones you were initially targeting. The problem is real, but the customer group will limit your ability to scale and grow.
How to Pivot Startups in B2B
If you were unable to find product-market fit with your current solution, the first pivot to consider should be around the solution (the product, the usage, or the benefits).
For B2B, I suggest evaluating pivots in reverse order to your assumptions starting from the solution, the usage or the benefits all the way to the vision.
If your team has exhausted pivots around the data you collected in the problem interviews, it may be because the jury you had selected did not have significant pains or budgets.
In this case, you should meet with your economic buyers to figure out whether the data was wrong or if a Jury pivot is required.
Now, if your team comes to a dead end in your market segment because of economic slow downs or, just because the opportunities weren't there, you may decide to change market segment.
The final pivot — the one your team doesn't want to make — is a vision pivot. Pivoting on vision is almost like starting over. It can be highly demotivating and is often a « team killer ».
Build on Your Learnings When You Pivot
Many startups fail because they decide to pivot from a solution to an altogether new idea or vision.
As mentioned, the best way to pivot is to keep a foot firmly on the ground and change a few things at a time. If you change too many things at once, it becomes difficult to know what parts of the model had impact and what parts didn't.
Pivot gradually and keep plowing. If your solution had few sales or low engagement, it's not true that people will freak out if you change features, solution or positioning.
Don't be afraid to pivot startup, but don't disappear. Honor the relationships you've worked so hard to build.
More on How to Pivot Startups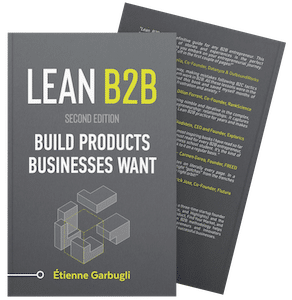 Download the First 4 Chapters Free
Learn the major differences between B2B and B2C customer development, how to think about business ideas, and how to assess a venture's risk in this 70-page sampler.
Working on a B2B Startup?
Learn B2B customer development with our free email course: