B2B entrepreneur and investor Jason Lemkin says that there are 4 stages to a business:
First customers: when you're looking for Product-Market fit;
Under $1M: when it's not really repeatable, but you have revenue coming in;
Over $2M: when the engine is starting to work and you can start spending;
Over $10M: when you've sortof made it.
Easy, right?
I love these simplifications. Maybe it's that easy if you've done it many times before (Jason has!), but to most entrepreneurs it won't be easy.
The people you'll need to engage with or sell to will be completely different in these 4 phases. In fact, the early adopter market – the people you should be targeting at the start – just won't allow you to reach $10M in annual revenue.
That's why Crossing the Chasm is a much better way to look at what needs to get done.
Crossing the Chasm built on the work of Everett Rogers, an assistant professor of rural sociology and the author of Diffusion of Innovations.
Diffusion of Innovations is the book that introduced the 5 types of adopters and coined the term 'early adopter' to identify a company's early customers. It's one of the all-time best innovation books.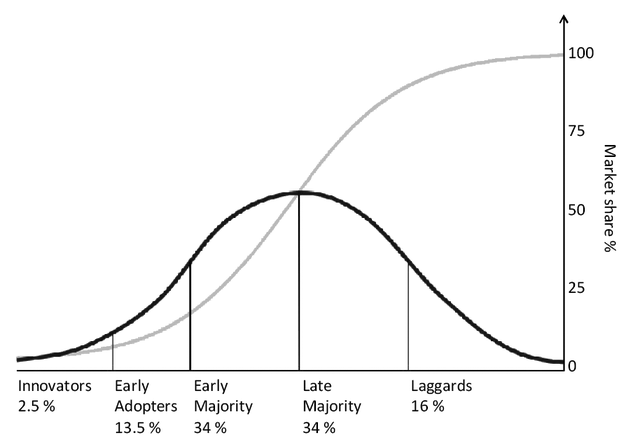 This is the model Geoffrey Moore expanded on in Crossing the Chasm (1991). It's a vital part of Lean B2B and any market segmentation process.
Why Crossing the Chasm Matters for Market Segmentation Analysis
The core theory behind Crossing the Chasm is that customers in any given market belong to one of five groups: Innovators, Early Adopters, Early Majority, Late Majority and Laggards, and that the way you sell to these groups of customers needs to reflect the stage of adoption of your technology.
Moore covers at length the importance of finding a beachhead — a first customer segment — to get a foothold in the market. This refers to the D-Day invasion of Normandy during World War II and is of the utmost importance for startups at various stages of their growth curves:
For entrepreneurs with a product looking for the right customer segment: That's when you have a solution looking for a problem – or the segment with the biggest pain. It's challenging, but if the technology is valuable, you can find a market. That was our challenge at HireVoice, the startup that led me to write Lean B2B.
Entrepreneurs with an established customer base, looking to double-down on growth: That's why I was hired at LANDR Audio. The company had almost 250k users when I joined. Some users saw value, and some didn't. We had to do a full market segmentation analysis to find a beachhead market and scale beyond the early adopter segment.
For entrepreneurs selling to early adopters looking to Cross the Chasm: That's the initial Chasm Crossing. It's the challenge we faced when I joined Psykler, a relationship profiling tool used during complex sales processes.
Running a Market Segmentation Analysis at Psykler
When I started at Psykler, the company already had customers in pharmaceuticals, aviation and consulting. Product usage was low, and we clearly didn't have product-market fit.
I sat down with the founder and we identified the 4 or 5 verticals where we felt Psykler could add the most value (pharma, enterprise software, consulting, integrators).
We did a short series of customer interviews that led to the realization that slow-moving industries like healthcare, telecommunications, education and defense are notoriously hard to sell into.
Sales required strategic preparation. For this reason, teams had to run account development meetings where Psykler could be really useful.
When customers were selling to large companies, there were many buyers, it forced complex sales and team selling.
In the service industry, long-term relationships and customer upsell are key. The sales team can get great rewards if they understand the entire organization they're selling in.
We also realized that companies selling strategic IT services like Business Intelligence and Security are forced to sell high, to CIOs, CTOs and VPs of Technology.
For them, there was a high cost of failure if those meetings didn't go well.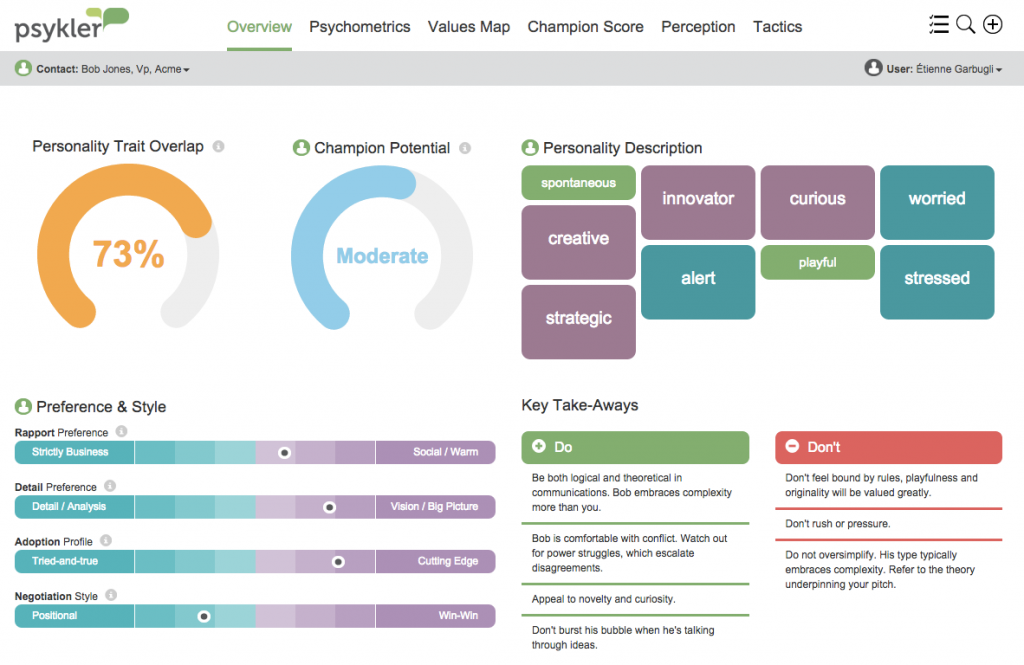 Based on all the validation we did, we realized that Psykler, in its current form, was best-suited for consulting firms in the security industry.
As we refined our pitch and understanding of the segment, the product really started to click with early adopters.
From there, we could refine the product and marketing to meet the needs of our newfound beachhead market.
How to Run Your Own Market Segmentation Analysis
To find success with your market segmentation analysis, you have to get out of the building and talk to prospects and customers.
You can start by listing the 4 or 5 verticals where you feel that your business can provide the most value. Do a quick series of 3 to 5 customer interviews in each of these verticals, listening for signals of pains your product could alleviate. Focus on the segments with the most pain and keep interviewing organizations until you find the best market segment for your product.
It's an iterative process well worth the investment (Marketo spent a year going through a similar process!), so keep learning, and keep refining your market hypotheses!
More on Customer Segmentation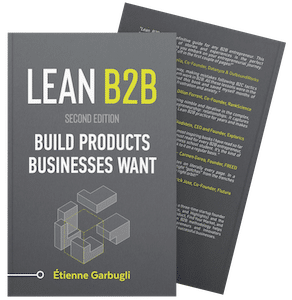 Download the First 4 Chapters Free
Learn the major differences between B2B and B2C customer development, how to think about business ideas, and how to assess a venture's risk in this 70-page sampler.
Working on a B2B Startup?
Learn B2B customer development with our free email course: