Find companies targeting your market, get close to them. – Steve Blank, The Four Steps to the Epiphany Author
Unless you're creating a completely new market, which is very difficult for a start up, you'll find that there are already people selling to your prospects. These people have done the legwork for you; they're your proxy to the enterprise. They know what is sellable; they know the levers and the pain points.
You can meet a lot of these people by attending industry tradeshows and conferences. They'll be the people standing next to booths on the floor waiting for people to talk to. Bored salespeople are very talkative, especially if you can tell them something they don't know.
Unless they're selling competing products or are in an upper management role, they probably won't mind sharing a lot of what they've learned. Trading a little bit of what you've learned to understand your prospects is a deal you should make.
Sales people operating in the same space are also good contacts to have in your network. They can share business leads and link you to opportunities for sales channels. Ultimately, they're the people you'll want to hire when it's time to build a sales team.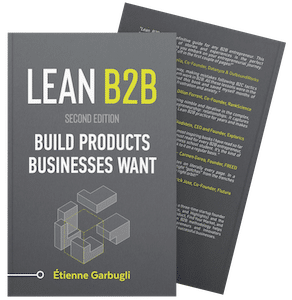 Download the First 4 Chapters Free
Learn the major differences between B2B and B2C customer development, how to think about business ideas, and how to assess a venture's risk in this 70-page sampler.
Working on a B2B Startup?
Learn B2B customer development with our free email course: