"Startups are risky."
This sentence may be one of the most dangerous in the business founder's lexicon…
Each year, similar statements lead smart founders to create startups taking on absurd (or unexpected) levels of risk.
Although as many as 90% of startups fail according to certain studies, that number can be hugely misleading.
Risk levels and failure rates vary by industry, segment, experience level, and several other factors.
According to a study by the Harvard Business School (2008):
Serial entrepreneurs have a 30% chance of succeeding in their next venture;
First-time entrepreneurs have an 18% chance of succeeding;
Entrepreneurs who have failed before have a 20% chance of succeeding.
As you can see, starting points are not equal, just like startup risk levels are not equal.
Top-line stats about startup failures say very little about the risk level of individual startups.
Risk Identification: Fatal vs Recoverable Startup Risks
The myth of the successful founder who comes up with an idea, sticks with it, and wills into existence a successful organization making little to no changes to his/her original vision is pervasive. It's also more myth than reality.
According to a study by Harvard Professor Clay Christensen, nearly 93% of the products that ultimately became successful started off in the wrong direction. In startups, pivots are the norm, not the exception.
Going through the customer development process is one of the hardest things you can do.
To be able to keep your team (and yourself) motivated, you want to avoid dead ends and keep failing forward, ever closer to your goal.
You'll encounter fatal risks, when there is no option but to go backward and change one of your business's foundational assumptions.
Although founders with sufficient startup runway and motivation can always muster a pivot, fatal risks – like vision pivots – can cost you a co-founder, a funding round, or the will to keep going. They're obviously best avoided:
How to Do Proper Risk Identification for Your Startup
"You don't want to create your own momentum; you want to ideally ride on momentum that already exists." – David Cancel, Serial Entrepreneur.
Idealab co-founder Bill Gross founded over 100 companies in the last 30 years. Analyzing hundreds of startups using 5 key dimensions – idea, team, funding, timing, and business model – he found that the biggest factors influencing the success or failure of businesses were the Timing and the Team / Execution: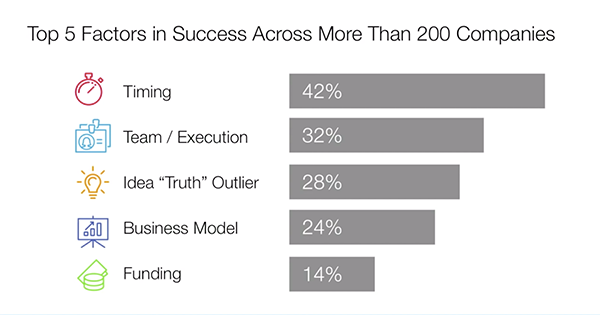 Creating a successful business means achieving success in many areas:
Timing;
Team;
Execution;
Idea;
Business Model;
Funding;
But also…
Market Size: Are there ways to expand beyond your original customer segment and grow the market?
Channels/Go-to-Market: Can you repeatedly reach buyers and prospects? Can you scale that process?
Competition: Can you create sustainable differentiation in the market?
Pricing Power: Do you have the ability to increase prices and capture additional revenue from existing accounts?
Recruiting Power: Can your business recruit top talent in the market?
Value Proposition: Is your value proposition sustainable in the long run?
Costs: Is your cost/revenue model sustainable long term?
Etc.
The more aspects of the business model are uncertain or unproven, the riskier the business. The riskier the business, the longer the path to success will be.
Although innovating on many factors at the same time can lead to great disruptions and innovation (Airbnb, Uber, etc), it's not a requirement for success (Salesforce, Slack, etc).
There are no awards for taking on more risk than the competition. Proper risk identification and risk mitigation only help make your life easier.
Risk Identification & Risk Acceptance
The easiest way to minimize the risk of failure in innovation is to build off something that already exists, changing only a few key parts of the model while leveraging your unique competitive advantages.
However, for various reasons – be it ego, personal interest, ambition, etc – founders rarely do that.
For the writing of Lean B2B, I interviewed Martin Ouellet, the founder of recruitment software startup Taleo.
At the time of the interview, Taleo had recently been acquired by Oracle for $1.9 billion, and his co-founder, Louis Têtu, was already working on Coveo, an enterprise search solution.
Têtu had recruited several key employees from Taleo's upper management and Ouellet had been invited to join the team.
Although Ouellet could have joined a business he felt was very similar to Taleo in terms of market, product, and dynamics, he made the decision to build something completely different: a gaming studio. He knowingly took on more risk, accepting that he would be able to re-use very little of his knowledge and expertise in this new venture.
To Ouellet, taking on a greater level of risk was a decision he wanted to make.
Although startups are risky, it's important to do proper risk identification upfront, understand the risks you're taking on, and work to test and validate risky assumptions.
Stay lean. Don't let fatal risks surprise you.
More on Startup Risks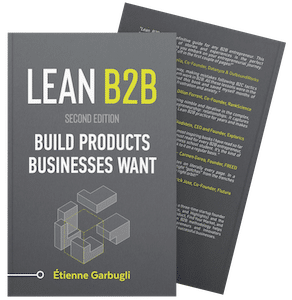 Download the First 4 Chapters Free
Learn the major differences between B2B and B2C customer development, how to think about business ideas, and how to assess a venture's risk in this 70-page sampler.
Working on a B2B Startup?
Join our free email course to learn all you need to know: