There are many ways to find early adopters beyond your professional network.
Although the people working for enterprises are often less active on social media than their small and medium-sized businesses (SMB) counterparts, you can still find early adopters on social media.
Finding Early Adopters on Social Media
Using a tool like Twitter (or X), spend time looking at the links and services shared by people in your target market. Did they recently get excited by new tools or concepts? Were these tools in your target market?
Start following these users and create a list of the people you suspect to be early adopters. Closely monitor the type of information they publish.
Tools like Moz's Followerwonk can help you find users for specific sociodemographic targets (industry, location, size of business, etc.) and discover many people you wouldn't have thought of contacting.
What needs are these people expressing?
Explicit needs? E.g., "We need to expand the business in South America."
Implicit needs? E.g., "Help us increase revenue in the face of stagnant business growth in the United-States."
Who are they following? Who has influence over them?
Tools like Zintro, Ask Your Target Market, Amazon's Mechanical Turk or Clarity can also help you find and qualify early adopters in exchange for a small contact fee.
LinkedIn will also allow you to find people by the expertise and keywords (e.g., "recruitment," "social media") from your elevator pitch.
Groups on LinkedIn are a great way to understand the interests of prospects beyond their work titles. Members of groups like "Recruitment 2.0" or "The future of recruitment," for example, will most likely be interested in the evolution of recruiting.
Do these groups organize events? Do they promote events you could attend to in order to meet early adopters?
Get creative. There are many ways to find early adopters on social media if you're willing to spend the time doing the research work.
More on Early Adopters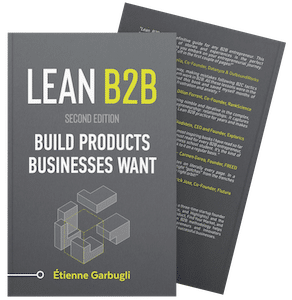 Download the First 4 Chapters Free
Learn the major differences between B2B and B2C customer development, how to think about business ideas, and how to assess a venture's risk in this 70-page sampler.
Working on a B2B Startup?
Learn B2B customer development with our free email course: