To be able to get a sale through, you need to start by finding the person with the motivation to get the solution purchased. That person is often the internal change agent—sometimes called the champion, or coach.
Change agents are willing to stick their necks out to drive the adoption of a solution.
Change agents might be early adopters. They'll often be end users. And they will be convinced that your solution can help the organization.
A good change agent has credibility with the members of the Jury, and strong relationships with peers. They have the ability to drive change internally.
Enterprise sales expert Anthony Lobosco says that a good change agent is willing to sponsor you for introductions to key stakeholders, will provide insights on the details of a deal (or lack thereof), is willing to bounce strategies and positionings with you, responds to emails in a timely manner, and can be called upon at a moment's notice.
In other words, the internal change agent that you're looking for is engaged, committed, and willing to bend the rules to help get your solution adopted. Ideally, your change agent has a demonstrated ability to get things done.
Identifying Change Agents
Change agents give you credibility inside companies. They may be able to buy the solution outright if they have the authority, and it's a small dollar amount—or they may be willing to help you build consensus across the buying team to make the change happen.
You need to start by mobilizing a change agent. It's the first step of the sales process.
Your tactics will need to change based on which stakeholders you have met, and which you haven't met; on whether you've already found a change agent, or you didn't.
Think about the prospects you've met so far.
Could they be change agents? Could they use your solution? Could they approve the purchase? Could they make the final decision?
You can assess accounts, and the prospects you've already met using the following sheet:
Finding an Internal Change Agent
If you haven't already identified a change agent, ask yourself:
Who will get to look good because of the solution?
Who will benefit the most?
Who might get promoted as a result of implementing the solution?
Could one of these stakeholders be convinced to act as an internal change agent?
Ask around in the organization:
Who is often raising questions about relevant business issues?

Who has a tendency to bend the rules?

Who is always trying to learn and keep up with the new innovations?
Which stakeholders have championed new ideas or solutions in the past?
Who are the rising stars?
There are many signals that can point to prospect change agents.
Make a list of the stakeholders you identified. Meet them one on one. Can you convince them to support your solution?
More on the Role of the Internal Change Agent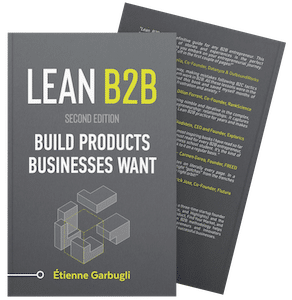 Download the First 4 Chapters Free
Learn the major differences between B2B and B2C customer development, how to think about business ideas, and how to assess a venture's risk in this 70-page sampler.
Working on a B2B Startup?
Learn B2B customer development with our free email course: