Veeva Systems was founded by Peter Gassner and Matt Wallach in 2007.
Having seen the evolution of client-server and mainframe technologies earlier in their careers, the founders believed that, as the cloud matured, products would become more verticalized, targeting specific industry segments.
At Salesforce, where he spent four years working as VP of Technology, Gassner had identified an opportunity to create a CRM for the life science industry. The Force.com platform, which he had helped build, could help them get to market fast.
He teamed up with Wallach—a life science veteran who understood the customer needs and what these companies valued in technology, and had a sense of which organizations might become early adopters—and they were off to the races.
Although this might read like a great start point today, at the time, the Force platform was unproven, the life sciences industry was highly regulated (it still is), and the cloud was still nascent.
Friends and investors were cautioning them, telling them that their market would be too small, and that they wouldn't be able to exit.
Yet, the idea of building a CRM addressing the specific needs of the life science industry on the Salesforce platform turned out to be a stroke of genius.
Veeva Enters the Market
Not only were they able to demonstrate that they could handle the security requirements of the industry, they proved that their CRM would get used by the industry's sales professionals.
Within a few years, Veeva signed many large clients, including Novartis, Pfizer, and Johnson & Johnson.
In 2010, the company launched a second verticalized product, Veeva Vault, designed to help large and small life science organizations manage their content and data.
Through strategic acquisitions and the development of new functionalities, Veeva became the platform of choice for the industry.
Today, with a market cap of over $40 billion built off a strong IPO in 2013, Veeva has shown that their market was never really too small; it had just never been addressed specifically enough.
Why Veeva Systems Won
So, what made Veeva a success?
When Wallach and Gassner made the decision to start their business, CRMs had been around for almost 40 years, the life science industry was well established, enterprise software was well understood, and cloud CRM was becoming big business.
Yet, in spite of all this, Gassner recounts that before starting the company, one of his friends made a drawing on a paper napkin, hoping to make him understand: "Here's enterprise software. Now, here's life sciences. That's a very small wedge. Here's pharma CRM. That's like a pin prick."
Veeva was ultimately able to prove that if an underserved market segment is large enough, and the company is able to continuously expand its relationship with customers, it can lead to a massive opportunity.
Although the founders probably didn't expect Veeva to become a $40 billion company, or that they would remain solely focused on the needs of the life science industry, Gassner's experiences working for a large horizontal cloud CRM vendor like Salesforce had made him realize that life sciences had the potential to be a lucrative vertical, and that it had a very distinct viewpoint.
What Made the Underserved Market Segment Appealing
Not only did life science sales staff have different needs, they faced higher levels of regulations, they worked on different timelines, had different jargon, and were involved in different events and communities. In many ways, the life sciences industry was its own universe, created by regulations and the unique nature of the work.
Early on, the founders had to overcome access, regulatory, and credibility challenges, but by building on top of a proven platform like Salesforce's, leveraging Wallach's connections, and staying laser-focused on the customer needs, they were able to take the market by storm.
Their arrival allowed life science sales staff—who were probably dissatisfied with the gaps in their horizontal CRMs—to finally get a product that could address their full needs.
The more life science organizations bought from them, the better they were able to understand and address the customer requirements. The more credibility they gained, the more deeply entrenched in the market they became.
What a Market Really Is
Veeva may very well have been the biggest vertical software success story in history.
Although the founders targeted one of the richest verticals (bringing a new drug to market costs around $1.3 billion), their story helps to illustrate what a good market is.
Great markets, like life sciences, have some sort of fencing around them. There's a sense of identity and belonging. For example, someone might say "I work in life sciences", or "I'm a chemist and I work in life sciences."
As a result of that identity, or that shared experience, these markets have their own watering holes (blogs, conferences, forums, mailing lists, etc) where prospects gather to learn, exchange, and connect. They also have their own leadership (experts, influencers, personalities, speakers, etc), their own jargon, and sometimes their own beliefs and worldviews.
You can think of a great underserved market segment as a select club. If well-positioned, products can become a part of their market's identity. For example, today, many sales people will actually refuse to work for organizations that use another CRM than Salesforce. This can effectively create a powerful competitive advantage for the company.
More on Underserved Market Segment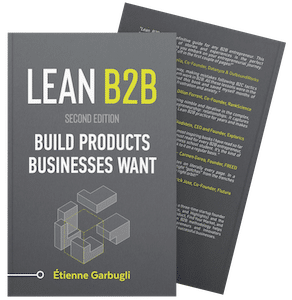 Download the First 4 Chapters Free
Learn the major differences between B2B and B2C customer development, how to think about business ideas, and how to assess a venture's risk in this 70-page sampler.
Working on a B2B Startup?
Learn B2B customer development with our free email course: