You don't learn through sales calls, it's not customer validation. – Jason Cohen, WP Engine Founder and CTO
Being too good of a salesperson can hurt your work during the customer development process.
Initially, learning and customer references should be prioritized over making money. You want prospects to honestly need and use your product.
Your plan is not to make money from the first clients. Money will be there later, so being generous with your early clients is an excellent idea.
It's important for prospects to understand that you don't have a product yet. You're not just a regular vendor; you're looking for a partnership more than just a sale.
You want to help them reach their objective, but in exchange, they must understand that you need to have product orders before anything gets built. That process must be clear.
Look, you have to understand that you're getting in on the ground floor and for that, you'll always be recognized as our first customer and I'll always remember that. – Steve Smith, CakeMail Co-Founder
The worst thing you can do is to try to sell. You don't know what your prospects want, you have no idea what the solution could be, and you don't even know if the people you're meeting are people you would like to sell to.
Find out what prospects really need to become clients.
With a good personal network, it is possible to ride relationships and land your first clients without really learning anything. However, riding relationships doesn't lead to a scalable and repeatable model. At some point, even the best professional networks dry up.
Keep the sales tricks in your back pocket. Learn before selling if you truly want to build a business.
More on The Customer Development Process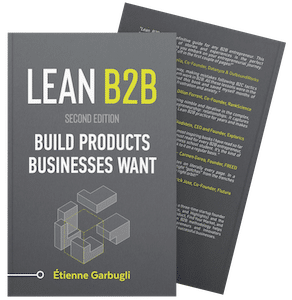 Download the First 4 Chapters Free
Learn the major differences between B2B and B2C customer development, how to think about business ideas, and how to assess a venture's risk in this 70-page sampler.
Working on a B2B Startup?
Join our free email course to learn all you need to know: