Landing new clients and closing new deals feels great. And it's equally upsetting when a customer turns down your offer or when they never get back to you at all. You won't be able to improve unless you can figure out why some customers chose your product, and why others preferred the competition. That's what a Win/Loss Analysis is for.
What's a Win/Loss Analysis?
A Win/Loss Analysis is a forensic market research technique that includes collecting, sorting, and analyzing information gathered from your clients and prospects. It helps you understand whether your sales techniques work, what made paying customers want to work with you, and what made prospects select another vendor over you.
For the analysis, you will need both sales you won and sales you lost, including customers who never made their decision at all. You'll create an interview script and interview your customers and potential customers to gain information from them. The analysis should provide a clear explanation of why the deals were won or lost. The goal is to learn how to win more business and increase income from each customer.
The Value of a Win/Loss Analysis
A Win/Loss analysis has many benefits. First of all, it will help you gather objective feedback from your customers and prospects on what has worked and what didn't. A lot of business is lost due to assumptions or miscommunication. Direct customer interactions can help address that. Win/Loss interviews open up additional opportunities for you; you might even learn about your competitors since respondents often discuss why they selected a vendor over another. The ability to build better customer relationships is another great benefit of Win/Loss interviews. It shows customers that you care about their experience and that your company wants to get better.
How to conduct a Win/Loss Interviews
The perfect time for Win/Loss interviews is two or three months after your customers have made their decision. Within a few months, they'll have used your service or product for some time and the information they will provide will be richer. If you wait too long, it's possible that customers will have forgotten important information.
The number of interviews you need to schedule depends on the size of your customer database. It's important to have a 50/50 ratio of won/loss sales to get a full picture of the situation. There are four parts to the analysis: 1) recruiting candidates, 2) creating the Win/Loss analysis interview questions, 3) interviewing candidates, and 4) analyzing the data.
1. Recruiting Candidates
In order to recruit the right interview candidates, you have to have a clear understanding of what your goals are. Ask yourself: what is your biggest weakness, how do you want to grow as a business, and what do you most want to learn. You can use our guide on recruiting interview participants to help with the recruitment phase.
2. Drafting Win/Loss Analysis Interview Questions
Questions for the interview will vary based on your business dynamics and your needs. Maybe you just launched a new product that you've yet to get feedback on? Or maybe your competitor launched a new product and you need to learn more about that? The most important thing is to make sure that your questions are open-ended to encourage prospects to feely share their thoughts. Your objective is to learn about the buying process, the decision-making criteria, the downsides and benefits of your product, and why prospects may have chosen a competiting product over yours.
For deals you've won, you'll want to ask questions like:
How did our sales team address your business needs?
How did our product meet your needs?
What was the primary reason behind your decision? / What convinced you to buy from us?
What was your overall impression of our product?
What do you value the most about our product? What do you value the least?
While for deals you lost, you'll want to ask questions like:
What could we have done differently? What prevented you from working with us?
What do you think is missing from our product?
What made you decide to choose another product instead of ours?
3. Interviewing Customers
Interview your customers and prospects face-to-face or over the phone. You want to initiate a free conversation where the interviewee feels comfortable sharing both positive and negative feedback. Be polite, appreciative, attentive, and build trust. Before you wrap up, make sure you ask if there's anything else they'd like to add. Similar open-ended questions frequently lead to avalanches of feedback.
For more insights on customer interviews, read our top customer interview tips.
4. Analyzing the Interview Data
Summarize the interviews shortly after conducting them so you don't forget important details. Find out what your customers think you do best and start doing more of that. Stop doing things that are not working, or that are generating little value. You want to track how the market perceives your product–on its own and by comparison to competing products–to find opportunities to gain new customers.
Action Items Following a Win/Loss Analysis
After conducting a Win/Loss analysis you want to make changes and iterate according to the conclusions you've made.
This analysis should help you generate more income from your customers, increase customer retention, and eventually reach product/market fit. There is no one better than your actual customers or prospects to tell you how to improve your business. Identify your best customers, figure out what they want, and deliver on that as you iterate your way to product/market fit.
More on Finding Product/Market Fit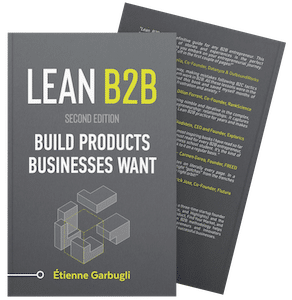 Download the First 4 Chapters Free
Learn the major differences between B2B and B2C customer development, how to think about business ideas, and how to assess a venture's risk in this 70-page sampler.
Working on a B2B Startup?
Learn B2B customer development with our free email course: