🆕  A new version of this list is available for 2019. Read: 13 B2B Conferences to Accelerate Your Startup's Growth in 2019.
It's sometimes hard for B2B startup founders to see the forest for the trees. They get consumed by a business problem and can't seem to find the solution.
Conferences are a great way to take a step back. Interacting with other founders, specialists and experienced entrepreneurs can lead to fresh insights, new opportunities and a renewed mindset to accelerate growth.
Sometimes, seeing what's out there is all you need to find a solution.
To help founders find the best conference for their needs, I put together a list of the best events in B2B:
General Conferences for B2B Startup Founders
SaaStr Annual – February 6-8, 2018 / San Francisco
Founded by entrepreneur and investor Jason Lemkin a little over 4 years ago, SaaStr Annual brings together more than 10,000 SaaS Founders, VCs and Executives. It's a great event to network, make deals, and discuss software as a service (SaaS), fundraising, enterprise sales, customer success and metrics.
Dreamforce – November 6-9, 2017 / San Francisco
Dreamforce is Salesforce's annual event. It was one of the first B2B conferences and it's, by far, the largest B2B event with 170,000 participants, 2,700 sessions and lots of corporate money. It's a good place to learn, but a better place to make deals.
SaaStock – September 18–20, 2018 / Dublin, Ireland
The European SaaStr. It covers a lot of the same topics as SaaStr (Sales, Customer Success, Growth and Funding) with a lot of the same speakers, but it's a great opportunity to network with European founders and investors.
Revenue Summit – March 7-8, 2018 / San Francisco
Organized by SalesHacker, Revenue Summit focuses on sales, marketing and the intersection between both disciplines. With a strong emphasis on sales processes, account management and technology, it's a good opportunity to go a bit deeper into B2B sales.
Marketing Nation Summit – April 29-May 2, 2018 / San Francisco
Marketo's 4-day conference covers all things marketing with a strong focus on B2B. It's an interesting alternative to Dreamforce especially if your startup sells to marketing departments.
Business of Software – September 18-20, 2018 / Boston
A single-track conference kept small on purpose, the Business of Software conference focuses on creating quality networking opportunities and teaching participants how to build better software, be better entrepreneurs and grow more successful businesses.
Inbound – September 25-28, 2017 / Boston
Hubspot's conference has long attracted thousands of marketing and sales professionals. It's a great place to network with now more than 19,000 attendees and learn about B2B content marketing, marketing automation and account-based selling from some of the leading authorities in B2B.
B2B Rocks – September 28, 2017 / Sydney, Australia
Interesting newcomer. B2B Rocks organizes events in Paris, France and Sydney, Australia. It brings together different crowds with a strong focus on local experts. At the event, you'll learn actionable tactics to grow your B2B SaaS.
Hyper-Growth – September 25, 2017 / Boston
Another new event in 2017, Hyper-Growth is Drift.com's conference. The event is held on the first day of the Inbound conference (also in Boston). It attracts a similar crowd, but Hyper-Growth focuses more on marketing and customer-centricity than the Inbound conference.
B2B Conferences Around Pain Points
Many B2B startups have created their own conferences around their customers' pain points. If you share these challenges, or wish to dive deeper into expertises like customer success or content marketing, other great conferences are available for you:
Customer Success
B2B Content Marketing
Industry Events for B2B Startup Founders
Events and conferences are shortcuts to communities and target markets. To speed up product-market validation or increase your growth rate, you can attend your target market's events or visit your customers' watering hole.
Whether it's the HR Technology Expo if you're targeting HR professionals or the DIA 2018 Global Annual Meeting if your market is pharmaceuticals, networking with your target market is always a great way to create new business opportunities.
No matter your goal, conferences are all about networking opportunities. By asking yourself, what kind of people will this event attract and seeing how that fits within your strategy, you'll make sure to always have return on investment when you attend an event.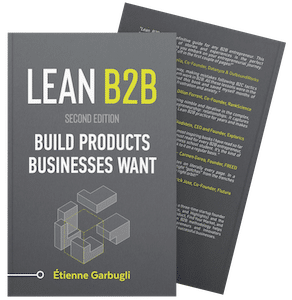 Download the First 4 Chapters Free
Learn the major differences between B2B and B2C customer development, how to think about business ideas, and how to assess a venture's risk in this 70-page sampler.
Working on a B2B Startup?
Join our free email course to learn all you need to know: