You've been collecting a lot of information during customer interviews about business problems you can solve and problems you can't solve; customers you can have and customers you'll never have. The next step of B2B customer development is about making decisions and deciding which prospects to listen to.
It doesn't matter how painful pollution in China is to your prospects; if it's not a problem you can solve, it's best to let it go. Moving forward, the only problems that matter are the ones you can solve.
How to Identify the Business Problems that Matter Most
You have a long list of business problems to analyze and know which prospects seemed interested. How do you identify the problems that matter most?
Rank Customer Problems – Get the Problem Evaluation Grid (Free)
There are five ways to prioritize problems in B2B customer development:
By frequency – Is this pain shared by a lot of early adopters?
By intensity of pain – Is this a painful problem? Are prospects actively trying to solve it? (Read: How to Find your Prospect's Most Painful Problems)
By budget availability – Is this the pain of a buyer? Have budgets already been assigned? (Read: How to Score Customer Problems by Budget Availability)
By impact – What kind of ROI can you expect if you solve this problem? What impact will it have on the organization?
By market education – Is there competition? Would you need to create a completely new paradigm to succeed?
Your objective is to solve a big pain and deliver a big gain. Although it is possible to succeed while working on a lesser problem, choosing which problem to solve is one of the most critical decisions in the life of a startup.
Rank Customer Problems – Get the Problem Evaluation Grid (Free)
How will you score your customer's business problems?
More on Analyzing Business Problems
How to Find B2B Business Ideas in Your Workplace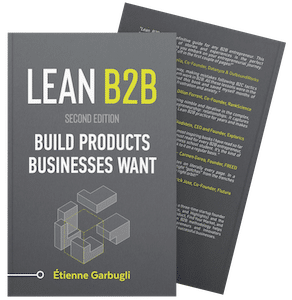 Download the First 4 Chapters Free
Learn the major differences between B2B and B2C customer development, how to think about business ideas, and how to assess a venture's risk in this 70-page sampler.
Working on a B2B Startup?
Learn B2B customer development with our free email course: