There are countless reasons why B2B SaaS companies fail to scale.
According to CB Insights' analysis of 269 startup post-mortems, the top reasons for startup failure are lack of market demand, competition, team, cashflow, and pricing:

With this post, I wanted to highlight the 3 main reasons for failure when it comes to scaling a B2B software-as-a-service company:
1. B2B SaaS Companies Mistake Early Adopters for a Market
The classic mistake is to confuse a few early adopters with an actual market. Not being able to replicate early successes leads to growth and sales slowing down.
Early adopters leave as quickly as they arrive. They can leave you with a ruined startup if you don't make a push for the early majority.
At LANDR, where I used to work, I dug into the profiles of the company's early early adopters – the first power users. I was hoping to do customer interviews with them.
Turns out that, 2 years in the life of the company, less than 20% of the early adopters were still using the product. The others had moved on to other products or opportunities.
As a market segment, early adopters aren't really known for their loyalty.
2. They Try to Scale Too Quickly
Premature scaling is one of the most consistent predictors of startup failure. As a founder, it's something to fear.
Startup Genome says premature scaling happens when entrepreneurs "focus on one dimension of the business and advance it out of sync with the rest of the operation."
It can be:
Hiring too fast:
Virtual assistant startup Zirtual hired almost 500 employees over the course of a couple years. Their cashflow wasn't calculated properly. They let go of 400 employees overnight via email. The next week, they got acquired by Startups.co for, probably, dimes on the dollar.
Hiring too fast is one of the biggest killers of startups raising money.
Focusing too heavily on early adopters:
Learning Management startup RateMySpeech invested heavily in a product that only appealed to 5 percent of their initial target market. In other words, they built it for outliers.
Lack of demand caused the end of their business.
Spending too much cash:
With raising money comes the pressure to spend money. And demonstrate progress to investors at all cost.
With sufficient cash, you can always get more users or customers. It doesn't mean that this approach will be "scalable" though. Churn often kills B2B SaaS companies when they have bad retention metrics (See: How to Run Customer Exit Surveys to Improve Product Retention). It's one of the main reasons why SaaS companies fail.
3. They Don't Really Have Product-Market Fit
You're taking a huge risk if you decide to scale-up without proven Product-Market fit. There's no guarantee that a market for your product exists. Even if it does, it might not be able to sustain your business.
Without Product-Market fit, major investments in marketing, sales and customer success are premature.
No amount of sales and marketing savvy can sustainably sell a product nobody needs.
When problems appear, it'll be impossible to determine whether the business is stagnating because of inefficient growth strategies, or because the product doesn't fully have product-market fit.
Y Combinator CEO Sam Altman says: "Hiring before product/market fit slows you down. Hiring after it speeds you up. Until you get product/market fit, you want to a) live as long as possible and b) iterate as quickly as possible."
Lean Startups don't try to scale their businesses until they have product-market fit. You need a car to put gas in the tank!
Product-Market fit is a per segment / per product thing. It constantly needs to be improved.
Make sure you avoid these 3 mistakes. If you're not sure you have full Product-Market fit, check out the Lean B2B book; it helped thousands of startups on their way to product-market fit.
More on Why SaaS Companies Fail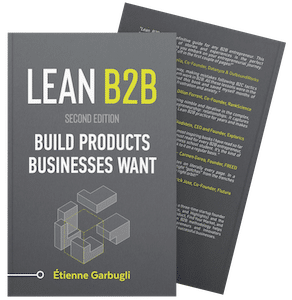 Download the First 4 Chapters Free
Learn the major differences between B2B and B2C customer development, how to think about business ideas, and how to assess a venture's risk in this 70-page sampler.
Working on a B2B Startup?
Learn B2B customer development with our free email course: