After years of watching salespeople burn leads and lose accounts due to personality and style clashes, Wayne McIntyre founded Psykler. The objective of the business was to help users build more effective business relationships using psychometric profiling.
Wayne's hypothesis was this: relationship profiling, a concept he honed during 15 years of corporate and business development, could help others. Salespeople would sell more by developing a deeper understanding of their customers and adapting their behaviour accordingly.
To validate Psykler, Wayne created a minimum viable product using Excel spreadsheets that used macros for interactivity. It was slow and the UI was basic, but this bare bones MVP had just enough features to test his hypothesis and refine the product.
It was also enough to sell to their first customer. Then it was up to the product development team to code like crazy to create a productized web version of the solution.
A simple prototype created with a spreadsheet program available on most of the world's computers was all Psykler needed to validate product demand and generate interest from prospects. It also made their product development effort cheap, fast and iterative.
More on Early Product Demand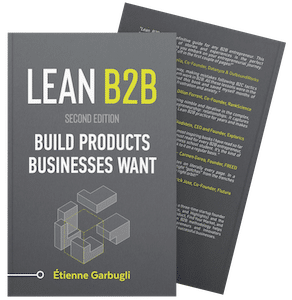 Download the First 4 Chapters Free
Learn the major differences between B2B and B2C customer development, how to think about business ideas, and how to assess a venture's risk in this 70-page sampler.
Working on a B2B Startup?
Learn B2B customer development with our free email course: