Startups are often selling too low… they get to people who live the pain they solve, get lots of feedback, but the people they try to sell to don't understand the needs of the whole department and don't end up buying. Try to target top down or middle out. – Jeff Ernst, SlapFive Co-Founder and CEO
Target markets are good, but they don't tell you whom you should speak with first.
Even if it remains just a hypothesis, you must narrow down the kind of customers or buyers you want by defining an ideal customer profile; you can't just talk to anybody in the organization.
You have to identify the customers you'd like to sell to, approach them and take it from there.
The ideal customer is someone that:
Has a problem;
Is aware of the existence of the problem;
Has already tried to solve the problem;
Is unhappy with the current solution to the problem;
Has a budget to get the problem fixed.
But, how do you find your ideal customers?
Steve Jobs famously said that people don't know what they want until you show it to them. But, if no one knew what they wanted until others started using it, how would new solutions get traction in the first place?
In 1991, Geoffrey Moore's Crossing the Chasm introduced marketers to the five customer groups that constitute any market. Although Steve Jobs was right in saying that most customers won't know what they want until it becomes popular, two of these groups will.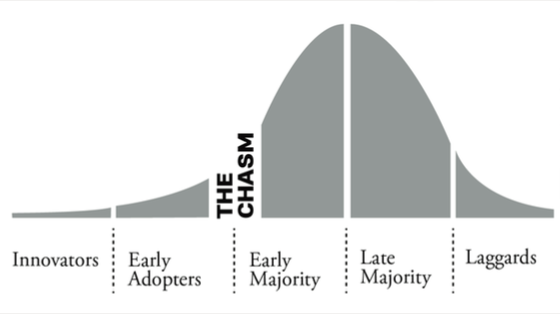 Early adopters and innovators know what they're looking for. They can see the value in an incomplete solution and have the potential to help you find product opportunities in the enterprise.
As leaders, early adopters have a great understanding of the technology landscape both inside and outside of their company. They also have a higher tolerance for risk and a greater ability to see the potential of new technology than most of their colleagues.
Working with the right early adopters can substantially reduce the effort needed to sign your first customers, get case studies and convince other companies to follow.
This is why early adopters are your first lead into finding the buyers in an organization.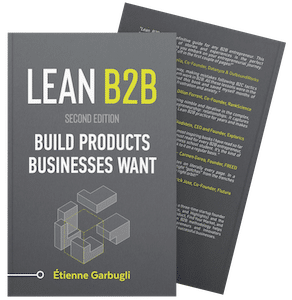 Download the First 4 Chapters Free
Learn the major differences between B2B and B2C customer development, how to think about business ideas, and how to assess a venture's risk in this 70-page sampler.
Working on a B2B Startup?
Learn B2B customer development with our free email course: