It's important to know where you want to go and build a network in this direction. – Martin Huard, Admetric Co-Founder and CEO
Your personal network can help you gain credibility with the early adopter network.
Contacts are in no way a replacement for having personal credibility — you will eventually need to interact with prospects — but convincing people who have influence over your prospects to make a warm introduction can give you social proof.
LinkedIn is a great tool to find out how prospects are connected with your current connections. It can also help you understand which connections would be best suited to make a warm introduction.
The best introductions always come from the people who have the most influence over your prospects.
This influence can be a mix of:
Fame – Is this person a known influencer or a well-respected figure?
Power – Was this person ever the manager of your prospect?
Longevity – How long have they known each other?
Proximity – Do they play golf together? Do they have many mutual acquaintances? Do they interact frequently?
Trust – Do I trust that this person has my best intention at heart?
The more influence your contact has over the people you want to reach, the higher the likelihood that that the early adopter will agree to meet with you.
It's not a wasted effort if your contacts can't help directly. The momentum you'll create by telling everyone the type of profile you're looking for will create new opportunities. People are generally willing to help.
Time to get the warm introductions cranking!
More on Warm Introductions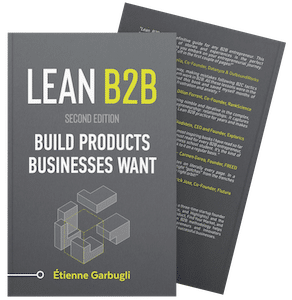 Download the First 4 Chapters Free
Learn the major differences between B2B and B2C customer development, how to think about business ideas, and how to assess a venture's risk in this 70-page sampler.
Working on a B2B Startup?
Learn B2B customer development with our free email course: