Visit VCs for fun, to find the influencers. These guys always know guys who compete in that space. VCs love giving their opinions. – Steve Smith, CakeMail Co-Founder
Investors, industry bloggers, journalists and market analysts often get contacted by startups and established companies trying to get funding or boost their visibility. These people are on the lookout for the next big thing. They have a wide perspective on the industry and can usually help you understand the market history and the competitive landscape. Have other companies attempted to bring similar innovation to market? How did it play out?
Investors and third-party analysts have a horizontal view of the industry. They can share info about the trends, the players, the influencers, the opportunities and their assessment of the market potential.
Although investors are extremely busy, they'll often meet with young entrepreneurs who are exploring spaces they're interested in.
Investors often like to mentor; with enough relationship, it's possible to ask for introductions, networking opportunities and recommended reading to further your understanding of the market space.
Questions and misunderstandings will give you a sense of the gaps and issues with your market assessment to refine your pitch and business model.
It's always a good idea to gather intelligence in the early days of your startup. Chances are, challenges flagged early by investors will make it hard to raise funding if you don't find a good solution.
More on Finding Investors in B2B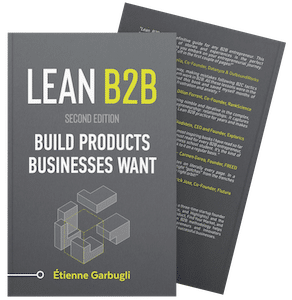 Download the First 4 Chapters Free
Learn the major differences between B2B and B2C customer development, how to think about business ideas, and how to assess a venture's risk in this 70-page sampler.
Working on a B2B Startup?
Learn B2B customer development with our free email course: