This bottom up SaaS purchasing model makes it difficult for legacy systems to embrace and protect their "own turf " when businesses are generating value from these smaller SaaS companies — all it needs is a credit card. – Peter Levine, Andreessen Horowitz Venture Partner
In the last 5-10 years, products like Dropbox, Yammer, or Apple's iPhones have been able to gain momentum in the enterprise by appealing directly to end users, bottom up. This Bring Your Own Device approach challenges traditional corporate purchasing models — where lock-in and transition costs are still important concerns — and raises the bar for enterprise products by making the user experience a key concern.
These companies have shown that a critical mass of consumers (or employees) can help get a product considered by the enterprise. However, consideration doesn't always mean adoption.
The Challenges of Bottom Up SaaS
Jason Pressman, managing director at the early-stage investment firm Shasta Ventures, says that one of the biggest concerns IT administrators have with consumer cloud services is that they aren't built with the needs of businesses in mind.
Every business will say that it wants well-designed and easy-to- deploy products, but in businesses where IT often plays the role of gatekeeper, new products can't get top-down company buy-in without real understanding of the business needs and the « whole product ».
Even new-age startups like Yammer (acquired by Microsoft for $1.2 billion), which once spread the notion that big companies will embrace new technologies the same way that people do with consumer products, later hired a full enterprise sales and customer support team. – Christina Farr, VentureBeat Writer
For example, Dropbox, a relatively new entrant to the enterprise market, had to greatly modify its feature set and hire a senior sales executive to take on the enterprise market — a move that competitor Box, a company focused on the enterprise from the start, had already made.
Dropbox came through the door with ease of use and a massive consumer user base, but to build a large B2B client base, they have to dig deep into the needs of the enterprise.
It's a challenge for a company to target both consumers and businesses at the same time. By putting more resources in the enterprise market, Dropbox is taking focus away from the consumer market, where it's strongest.
Enterprises don't purchase products like consumers. Finding out what businesses want requires deep relationships and, building relationships in the enterprise is a dramatic change of strategy for a mass market B2C company like Dropbox.
For any technology requiring deep process integration or multiple levels of buying authorities signing off on purchases, the bottom-up purchasing model will still lead to significant challenges in product adoption. As we often mention on this blog, selling to businesses is not like selling to consumers.
More on Bottom Up SaaS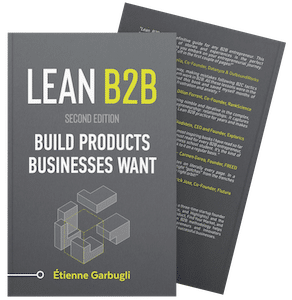 Download the First 4 Chapters Free
Learn the major differences between B2B and B2C customer development, how to think about business ideas, and how to assess a venture's risk in this 70-page sampler.
Working on a B2B Startup?
Join our free email course to learn all you need to know: